Monday, October 15, 2012
'Drone' Exhibit Examines Futurist World October 16-November 17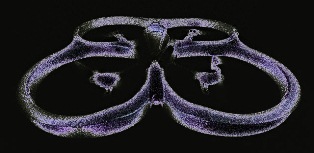 SALISBURY, MD---A robot may not injure a human being or, through inaction, allow a human being to come to harm.

A robot must obey the orders given to it by human beings, except where such orders would conflict with the first law.

A robot must protect its own existence as long as such protection does not conflict with the first or second laws.

Science fiction fans will recognize these statements as writer Isaac Asimov's "Three Laws" of robotic behavior. For Preston Poe, however, they represent an artistic vision.

Poe incorporates these principles in the exhibit "Drone: Three Laws" at the Atrium Gallery of Salisbury University's Guerrieri University Center October 16-November 17. An artist talk is 5 p.m. Thursday, October 25, in Fulton Hall Room 111, followed by a reception in the Atrium Gallery.

As a collection of animated illustrations, "Drone: 3 Laws" depicts science fiction elements of a futurist world, blending nature and technology in a post-apocalyptic dystopia.

Poe is an assistant professor for new media and curator of SU's Electronic Gallery. For more than a decade, his installations and projects have prompted reflection and consideration by examining connections between the persuasion of visual and audio experiences in various locations.

Sponsored by University Galleries, admission is free and the public is invited. Gallery hours are 1-6 p.m. Tuesday-Thursday, 11 a.m.–4 p.m. Friday-Saturday, and other times by appointment.

For more information call 410-548-2547 or visit the University Galleries' online blog at www.suartgalleries.org.