Thursday, July 23, 2015
SU Art Galleries Presents 'The Luminous Surface' August 24-October 31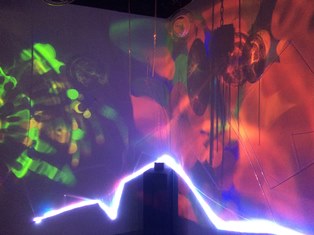 SALISBURY, MD---Salisbury University Art Galleries presents "The Luminous Surface," curated by David Linton, August 24-October 31 at the University Gallery of Fulton Hall and Electronic Gallery, Teacher Education and Technology Center (TETC) Room 128.

A reception with the curator is 5-7 p.m. Wednesday, September 23, in the University Gallery.

In connection with the exhibit, artist Ursula Scherrer, with musicians Brian Chase and Kato Hideki present "afloat," on Wednesday, September 30, from 5-8pm in TETC Room 317. "afloat" is a durational performance installation which invites the audience to sit, lie down, come and go in an environment of floating sounds and images.

A panel discussion with curator David Linton and exhibiting artists is 5:30 p.m. Thursday, October 1, in Fulton Hall Room 111.

"The Luminous Surface" includes 34 self-illuminating works by 40 contemporary artists working with light, sound and video in physical space. Linton has assembled a broad survey of works from 40 contemporary artists — addressing the subject, object and temporal process of "the luminous."

University Gallery hours are 10 a.m.-5 p.m. Monday-Thursday, noon-4 p.m. Friday and Saturday. Electronic Gallery hours are 9 a.m.-7 p.m. Tuesday-Wednesday, 11 a.m.-4 p.m. Thursday-Saturday. Sponsored by SU Art Galleries, admission is free and the public is invited.

For more information call 410-548-2547 or visit the SU Art Galleries website at www.salisbury.edu/universitygalleries.