Thursday, July 23, 2015
Guerrieri Art Space Presents 'Tintype Still Lives' August 3-31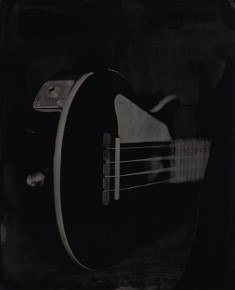 SALISBURY, MD---The Guerrieri University Center Art Space hosts the exhibit "Tintype Still Lives" by Salisbury University alumnus Preeda Dulyachinda from August 3-31.
The Ohio native, raised in Maryland, earned his B.F.A. from SU in 2015. His awards and honors include the Walter C. Thurston Award, SU Alumni and Art Memorial Recognition awards, the SU Student Academic Research Award and the University's Fulton Research Grant.
His photography explores color, texture and the unique qualities of ordinary everyday objects using analog techniques from wet plate collodion.
"The major focus of my work is to photograph the mundane and make it interesting by focusing on its unique characteristics," he said. "For example, in 'No.13 Driftwood 2,' I bring special focus on the knotty end of a piece of driftwood. A person may write off this piece of driftwood as any old object, but being photographed in this context brings importance to the object.
"Tintypes are perfect for still lives because of their uniqueness. The image shimmers, especially when well lit. Every tintype is unique, just like the objects I photograph. Each tintype may display artifacts such as dust, undeveloped areas, oyster shells and streaking.
"Collodion also has a longer exposure time than today's photographs. To alleviate this, a lens with a wide aperture is used and thus a shallow depth of field is created only allowing parts of the object to come into focus. I use this to my advantage by focusing on a part of an object I feel best displays the characteristics of the object."
The Art Space is located in the Guerrieri Center's second-floor concourse. Admission is free and the public is invited. For more information call 410-543-6247 or visit the Art Space website at http://www.salisbury.edu/guc/artspace.