Wednesday, July 22, 2015
SU Art Galleries Presents 'The Great American Landscape' August 12-October 10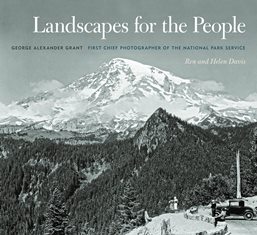 SALISBURY, MD---Salisbury University Art Galleries celebrates the natural beauty of the United States during the exhibit "The Great American Landscape: Photographs by Ansel Adams, George Alexander Grant, Eliot Porter and the National Park Service."

The exhibition is on display August 12-October 10 at the SU Art Galleries Downtown Campus. A reception and book signing with guidebook authors Ren and Helen Davis is 5-7 p.m. September 18 during the Salisbury Arts & Entertainment District's monthly 3rd Friday celebration.

Ren and Helen Davis are co-authors of the book Landscapes for the People: George Alexander Grant, First Chief Photographer of the National Park Service, scheduled for release this September. Grant was the organization's first staff photographer, from 1929-1931, holding the position of chief photographer from 1931 until his retirement in 1954.

Five of the more than 30,000 pictures he took during that time were selected to appear on U.S. postage stamps representing Grand Canyon, Mesa Verde, Crater Lake, Zion and Glacier national parks. With ties to the Eastern Shore, Grant is buried in Snow Hill, MD.

A digital exhibition of Grant's works combine with photos from SU's permanent collection for the exhibit.

Gallery hours are noon-5 p.m. Wednesday-Friday, noon-4 p.m. Saturdays. Sponsored by SU Art Galleries, admission is free and the public is invited.

For more information call 410-548-2547 or visit the SU Art Galleries website at www.salisbury.edu/universitygalleries.