Wednesday, October 17, 2012
Questions Sought for Oct. 30 PACE U.S. Senatorial Debate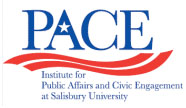 SALISBURY, MD---Salisbury University's Institute for Public Affairs and Civic Engagement (PACE) hosts a public reception for those attending the debate among U.S. senatorial candidates for Maryland on Tuesday, October 30.
The reception begins at 2:30 p.m. in the Social Room of Holloway Hall. The debate follows at 3 p.m. in Holloway Hall Auditorium.
Candidates confirmed to participate include Senator Ben Cardin (D), Dan Bongino (R), Rob Sobhani (U), Dean Ahmad (L) and Ed Tinus (U). Dr. Adam Hoffman, PACE director, moderates.
Voters throughout Maryland may continue to submit questions for consideration in the debate. Questions, with the submitter's name and location, may be sent to pace@salisbury.edu.
Admission is free and the public is invited. Parking is available in the Blackwell and Scarborough lots on Camden Avenue. Additional parking, with a shuttle provided, is available in the Guerrieri University Center lot on Dogwood Drive. Simulcast locations for overflow crowds will be in Holloway Hall Room 118 and the Wicomico Room of the Guerrieri University Center.
For more information call 410-543-6030 or visit the SU Web site at www.salisbury.edu.