Thursday, February 21, 2008
Performing Arts Take Center Stage at NCUR 22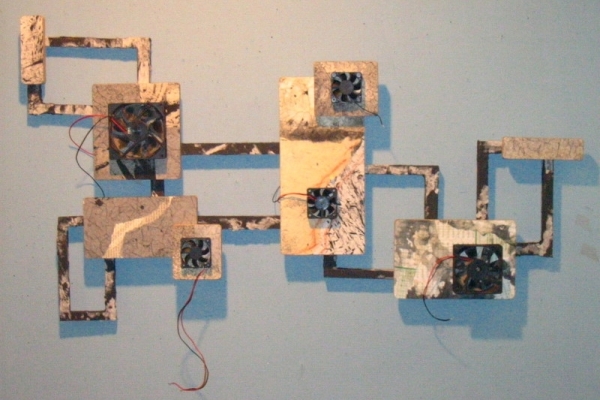 Pictured is artwork by NCUR performing arts presenter Matthew Farnsworth of the University of Wisonsin-Whitewater.
SALISBURY, MD---Among the 2,800 oral and poster presentations to be delivered at the National Conference on Undergraduate Research, held on Salisbury University's campus April 10-12, are two dozen visual and performing arts presentations that give students a chance to exhibit their work in a variety of artistic fields to an audience from all over the country.
Spanning a wide range of areas, such as glassblowing, music, dance, painting and other aesthetics, these presentations promise a look at undergraduate research that, being a mere 1 percent of the entirety of NCUR's schedule, was conducted in a truly unique manner.
For instance, William Ritter of Western Carolina University gives a comprehensive history of the manufacture of folk instruments in Appalachia and the manner in which the constructional methods were traditionally passed down. Combining audio and video recordings, interviews with folk musicians, an account of literature on the subject, a display of folk instruments and hands-on demonstrations, Ritter strives to tell the story of Appalachian music and its rich cultural legacy through multimedia.
Erick Knudtson of University of Wisconsin-Whitewater produced a short film using stop-motion animation. Knudtson screens his film at NCUR, accompanied by three-dimensional stills which recreate the individual shots.
Sarah Moore and Courtney Acomb of SUNY-Brockport give a performance of their dance piece "We Don't Live Here," an attempt to express the powerful bond between two people in a passionate relationship through the medium of movement rather than words. The dance will be accompanied by a cello performance of "We Insist" by Zoë Keating.
An investigation into the sometimes ludicrous world of fashion, Jacksonville University student Jessica Larsson presents the film The Irony of Footwear. The final product is a satirical fashion spread that demonstrates the discomfort and expense looking fashionable can create, as sometimes seen on Bravo's Project Runway.
SU student Aubrey Maggio delivers the presentation "An Overdue Catharsis," consisting of a painting inspired by the work of Artemisia Gentileschi and an exploration of the emotional catharsis painting can provide in the wake of a devastating event in the artist's life. Maggio kept a journal while creating the painting, allowing a detailed account of the emotional journey and creative process to emerge. It is presented alongside the finished piece.
NCUR is the largest undergraduate research conference in the nation. Undergraduate scholars from some 400 institutions and representing more than 50 disciplines present their research.
For more information call 410-677-5046 or visit the NCUR Web site at http://www.salisbury.edu/ncur22.