Monday, February 18, 2013
PACE Co-Sponsors Salisbury Mayor, City Council Debate Tuesday, March 26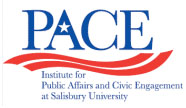 SALISBURY, MD---The Salisbury Area Chamber of Commerce (SACC) Political Committee, in cooperation with Salisbury University's Institute for Public Affairs and Civic Engagement (PACE), has scheduled acandidate debate prior to the upcoming general election.

On Tuesday, March 26, mayoral candidates and City Council primary winners debate in the Wicomico Room of the Guerrieri University Center from 7-8:30 p.m.

The public is encouraged to submit questions for the debate via the Chamber's Facebook page or by e-mailing them to the Chamber (chamber@salisburyarea.com). The General Election is Tuesday, April 2.

Candidates for City Council are: District One - incumbent Shanie Shields, community activist April Jackson, and businesswoman Cynthia Polk; District Two - incumbent Debbie Campbell and urban redevelopment activist Jake Day.

Mayoral candidates are incumbent Jim Ireton and businessman/blogger Joe Albero.

The debate's moderator is Ernie Colburn, past president and interim executive director of the SACC.

Admission is free and the public is invited. PAC 14 will broadcast live and record for repeat viewings. The debates also will be available in streaming video at www.pac14.org.

For further questions or information, please contact Colburn at 410-749-0144 or via e-mail at ernie@salisburyarea.com.