Tuesday, August 28, 2012
Noel-Levitz Honors SU for Marketing-Recruitment Excellence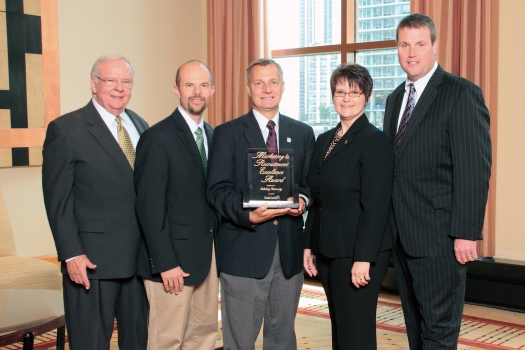 Pictured (L-R) are Dr. Lee Noel, co-founder of Noel-Levitz; Aaron Basko, SU's assistant vice president for enrollment management and admissions; Dr. Dane Foust, SU's vice president of student affairs; Sue Eagle, SU's director of marketing and public relations; and Kevin Crockett, president and CEO of Noel-Levitz.

SALISBURY, MD---One of the nation's leading companies in higher education research and communications has honored Salisbury University for outstanding marketing and recruitment efforts.

Noel-Levitz, based in Iowa and Colorado, presented SU with its 2012 Marketing-Recruitment Excellence Award for state-of-the-art programs, services and strategies that positively impact student enrollment. The honor, one of only four nationwide, was given at the National Conference on Student Recruitment, Marketing and Retention in Chicago. Accepting the award for SU were Dr. Dane Foust, vice president of student affairs; Aaron Basko, assistant vice president for enrollment management and admissions; and Sue Eagle, director of marketing and public relations.

SU was applauded for establishing goals of increasing SAT scores and enrollment, and growing the minority student population, as part of a strategic enrollment planning process that began in 2008.

"Thanks to the efforts of many across campus, we have reached new heights in just a few years," Foust said. "President Janet Dudley-Eshbach, in particular, should be applauded for her commitment to this sustained effort. Her goals have always been enhancing diversity and building SU's reputation for academic excellence. We are grateful this work has been recognized."

Preliminary data for fall 2012 showed SAT scores of incoming SU students up 13 points from the previous fall, which would be an increase of more than 50 SAT points in the last five years. Average high schools GPAs are up to 3.7. In addition, SU has expanded access for minority students and grown out-of-state enrollment.

According to Basko, SU has accomplished this, in part, by developing a strategic enrollment plan and a more holistic admissions process that examines students individually across many areas of success. Other initiatives include revamping visitation, telecounseling and student achievement programs; creating a student leadership board; increasing outreach to prospective students and guidance counselors; and restructuring financial aid and scholarship notification practices. The University's Center for International Education also reached international students and partner campuses abroad and developed an English Language Institute.

Established in 1973, Noel-Levitz specializes in student retention, recruitment, financial aid, market research and communications development. The group selected honorees based on institutional outcomes and execution of strategies that promote student awareness, inquiry, application, admission, deposit and enrollment.

For more information, call 410-543-6030 or visit www.salisbury.edu.