Tuesday, August 28, 2012
Johnson Earns 2012 SU Distinguished Faculty Award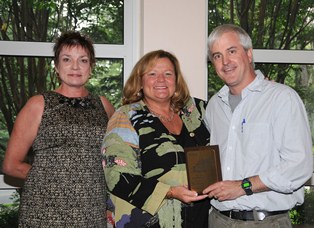 From left: Dr. Victoria Hutchinson, Distinguished Faculty Awards and Recognition Committee chair, and SU President Janet Dudley-Eshbach present the 2012 award to Dr. David Johnson.

SALISBURY, MD---Dr. David Johnson, an English professor known locally and nationally for his in-depth work in film studies, is the 2012 Salisbury University Distinguished Faculty Award honoree.

"He is truly one of our finest faculty members, a first-rate scholar-teacher and colleague who richly deserves the recognition of this very prestigious award," said Dr. Maarten Pereboom, dean of SU's Charles R. and Martha N. Fulton School of Liberal Arts.

According to Dr. Elizabeth Curtin, English Department chair, who nominated Johnson, he is a highly regarded colleague "who represents all the values that this award honors. … Dave not only has proved to be the perfect fit for us, but has also moved the position and the film program far beyond what we could have imagined."

As co-editor of the international journal Literature/Film Quarterly since 2005, his name is known among film scholars. His recent book on director Richard Linklater, part of the University of Illinois Press' Contemporary Directors series, has earned critical praise. "With remarkable clarity, this intelligent and rigorous study securely establishes Richard Linklater as a definitive auteur, locating commonalities across his seemingly diverse oeuvre," said Michael Koresky, editor at the Criterion Collection and co-founder of Reverse Shot.

Additionally, Johnson is the co-editor of Conversations with Directors: An Anthology of Interviews from Literature/Film Quarterly and author of the chapter "Critical Hearing and the Lessons of Abbas Kiarostami's Close-up" in Lowering the Boom: New Essays on the Theory and History of Film Sound. He also has written articles on the films Dogtown and Z-Boys and Grizzly Man in publications including Adaptation: The Journal of Literature on Screen Studies and Film Criticism.

Locally, Johnson is known for his work with the Salisbury Film Society and the Rehoboth Beach Film Festival, giving guidance on film selections and serving as a speaker for both organizations.

In the classroom, students are enthusiastic about learning from Johnson. "Dave's student evaluations are stellar," said Curtin, adding tongue-in-cheek: "In a film history course, he used to get complaints about silent and black-and-white films, but that seems to be fading."

Johnson also has served the Fulton School and the greater SU community with service on committees for Fulton Scholars, long-range planning, and academic freedom and tenure, among others.

For more information call 410-543-6030 or visit the SU Web site at www.salisbury.edu.