Friday, March 10, 2017
Nakatani Gong Orchestra Concert Scheduled April 7 at SU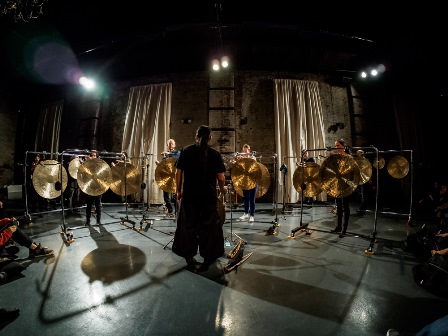 SALISBURY, MD---Featured artist Tatsuya Nakatani continues Salisbury University's 2017 Percussion Ensemble with a concert by the Nakatani Gong Orchestra (NGO) 7:30 p.m. Friday, April 7, in Holloway Hall Auditorium.

A sound artist and percussionist, Nakatani has released over 60 recordings in North America and Europe, creating a unique instrumentation using drums, gongs, cymbals, singing bowls, wooden sticks, and metal objects. He has performed at venues including the Kennedy Center for the Performing Arts in Washington, D.C., and The Issue Project Room in New York.

Consisting of a dozen gongs played with hand-crafted bows and mallets, the five-member NGO performs a combination of improvised experimental music, free jazz and what Nakatani himself refers to as "noise" while retaining a sense of harmonic structure. The Philadelphia City Paper has lauded Nakatani's "metallic temple of deep harmonies."



Sponsored by the Music, Theatre and Dance Department, admission is free and the public is invited. For more information call 410-543-6385 or visit the SU website at www.salisbury.edu.