Friday, March 10, 2017
37th SU Philosophy Symposium Explores 'What Children Can Do For Philosophy' April 8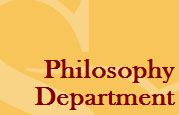 SALISBURY, MD---When most people think of philosophers, they likely picture ancient masters like Aristotle, Plato and Socrates.

Salisbury University's 37th annual Philosophy Symposium focuses on philosophers who are … a bit younger.

Scheduled 9 a.m.-3:30 a.m. Saturday, April 8, in Conway Hall Room 153, this year's theme is "Just Kids? What Philosophy Can Do for Children and What Children can Do for Philosophy."

Guest speakers include Michael Burroughs, associate director of Penn State University's Rock Ethics Institute; Claire Katz, professor of philosophy at Texas A&M University; and Megan Laverty, associate professor of Philosophy and Education at Columbia University's Teachers College.

They attempt to answer questions including "Can children actually do philosophy, and should they?" "What can adults learn from children about philosophy?" and "Does philosophy in schools benefit children, teachers and the wider community, and, if so, how?"

On hand to help answer the latter will be teachers and students participating in the local Philosophy in the Schools program.



The morning session features speaker presentations. The afternoon includes a panel and open discussion.

Sponsored by the SU Philosophical Society and Philosophy Department, admission is free and the public is invited. For more information call 410-677-5070 or visit the SU website at www.salisbury.edu.