Friday, February 9, 2007
Master Photographer Richard Newman Exhibits at SU March 2-April 14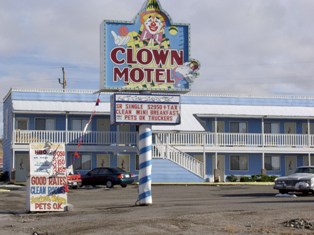 SALISBURY, MD---From Maryland's Eastern Shore to the frigid coasts of Alaska, master photographer Richard Newman has chronicled life and art throughout the United States.
From March 2-April 14, the Atrium Gallery in the Guerrieri University Center at Salisbury University showcases his work in the exhibit "Richard Newman: A 12-Year Diary in Photographs."
Newman speaks about his work at a reception from 2-4 p.m. Tuesday, March 13, in the Atrium Gallery. He follows with a slide lecture on photographers whose legacies have inspired and influenced today's artists 6 p.m. Wednesday, March 14, in Fulton Hall Room 111.
In conjunction with the slide lecture, the University Galleries host a reception for the American Masters of Photography exhibit in the University Gallery of Fulton Hall. The display is part of SU's "American Master Photographers" spring exhibit series.
For more than 25 years, Newman has been a photographer and printer. His work documenting the Exxon Valdez oil spill in 1989 and 1990 is part of the White House photography archives and the permanent collection at the University of Alaska-Fairbanks.
He has published several books on photography and been a contributor to two others. His photographs and writings have appeared in Digital Photo Pro, View Camera, Lenswork Outdoor Photographer, Professional Photographer Magazine, Storyteller Magazine, Rangefinder and the Village Voice. He is the executive editor of Student Photo, published four times a year by the Professional Photographers of America, and the national education coordinator for Calumet Photographic.
Newman was the juror for the "Rarified Light" exhibition at the Anchorage Museum of Art in 2001 and also the Texas Photographic "Members Only" Show 2006. Newman was the co-chair of the Silver Conference at Art Center College of Design in March 2006 and co-editor of the Silver Journal.
He also serves on the advisory boards of several schools and organizations, including the Texas Photographic Graphic Society, East Los Angeles City College and the Center for Photographic Art in Carmel, CA. He has taught workshops for the Calumet Institute and Smithsonian-Library of Congress Folklife Series. His visit is sponsored by the University Galleries.
Atrium Gallery hours are 10 a.m.-4 p.m. Monday-Thursday. The gallery is closed Fridays, weekends and holidays. Admission is free and the public is invited.
For more information call 410-548-2547 or visit the SU Web site at www.salisbury.edu.