Friday, February 9, 2007
SSO Welcomes New Board Members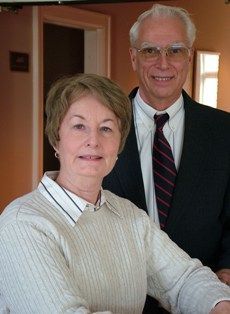 Phyliss Morgan White and Kirk Kondos

SALISBURY, MD---The Salisbury Symphony Orchestra welcomes two new board members to the local arts community: Kirk Kondos and Phyliss Morgan White.

"Along with a love of music, they will both bring new, fresh ideas to our already enthusiastic board of directors," said Chair Lee Knier. "They come from backgrounds that will serve the orchestra well and I am pleased to have them join."

Kondos, a research assistant for Johns Hopkins University, has had an accomplished career as a manager and hopes to help promote the SSO. He said that in addition to an interest in music, he got involved to help unify arts in the community. "I would love to see the arts become a bigger part of Salisbury's life – not just music, but all forms of the arts," he said.

White will also contribute a great deal of expertise to the orchestra's board, as well as an interest in music. She is a life-long resident of Salisbury and a former SSO board member who is actively involved with various local organizations.

Originally from Washington, D.C., Kondos moved to Salisbury in 1994. Like many newcomers to the Shore, he said he misses the artistic culture prevalent in the Baltimore-Washington region. "We have a brand new, growing population of retirees in this area and almost all come from other parts of the country where they are used to experiencing the arts," Kondos said. "So, there's the potential to engage a larger audience."

"I just enjoy exposing people in the community to symphony music and trying to get them more involved with such good music," White said. "It's important for the community to have different cultural venues and the SSO is one that is certainly an asset to the University and the local area."

For more information on the SSO season or volunteering with the orchestra, call 410-548-5587.