Friday, February 9, 2007
Pfeiffer Adaptation of 'Joseph Andrews' Continues Through March 11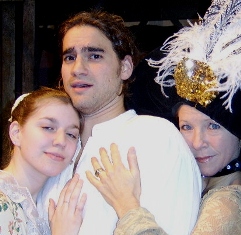 SALISBURY, MD---Salisbury University's Bobbi Biron Theatre Program brings Henry Fielding's classic novel Joseph Andrews to the stage with the premiere of a new adaptation by Dr. T. Paul Pfeiffer, director of SU Theatre.
Performances are Thursday-Sunday, March 1-4 and 8-11, in the Black Box Theatre of Fulton Hall. Curtain is 8 p.m. Thursday-Saturday, 2 p.m. Sunday. As an original adaptation, it is eligible for the Kennedy Center Award Program's Mark David Cohen Award for new plays. Winners receive a cash prize as well as a membership in the Dramatist's Guild.
The performance follows the title character, Joseph, who is strained to resist the temptations of even his employer, Lady Booby. She hides a dark secret none would dare mention, though the vicious may suspect.
"18th century novels were often quite bawdy in the sense that the heroine's—or in this case hero's—virtue (meaning chastity) is in constant danger from seemingly endless attack—either from less honorable others or by their own temptations," said Pfeiffer. "In Joseph Andrews, the title character is ardently pursued by Lady Booby—old enough to be his mother and certainly not the great 'lady' she pretends to be.
"Throughout the story, both Joseph and Fanny (his true love) encounter obstacles to their marriage as they fend off the advances of the more energetic and less scrupulous. We soon find that neither of them knows his or her parentage for certain, and so, in a world where one's birth signifies one's possibilities in Life, both are set adrift in an uncertain and cruel world. Yet, true to all comedy, a miraculous—and highly unlikely—discovery sets everything right in the end.
"When Fielding, an English author wrote the book in 1742, he sought to satirize popular novels of the day in which innocent young women were placed in constant and often comic danger by more worldly men. More than 250 years later, its influence continues. Variety calls the original novel "the inspiration for generations of successively updated farce."
The cast includes Danny Schall as Joseph, Aftyn Garvin as Fanny, Greg Jones as Parson Adams, Martha Pfeiffer as Lady Booby, Mary George as Mrs. Slipslop, Tim Dykes as Mr. Wilson, and Griffin Jones, Zachery Schlag, Jackie Walter, Megan Murray, Emily Jablonski, Don Paul, Courtney Taylor, Hank Brannock, Susan Wasem, B.J. Hoyle, Andy Lee, Brandon Shain, Lars Ryan and Janey Robson as Narrators.
Gerry Patt Jr. is scenic designer. John-James Rutuelo is costume designer, and Dr. Gerald George lighting designer and technical director. Jessica Rivera-Pratt is assistant stage manager.
Admission is $10, $8 for seniors during Thursday performances, $12, $10 for seniors during all other performances. The play is recommended for mature audiences. For reservations call the SU Box Office at 410-543-6228.
For more information call 410-543-6229 or visit the SU Web site at www.salisbury.edu.