Friday, November 1, 2013
Guerrieri University Center Art Space Presents "Reflections" Photography Exhibit November 1-27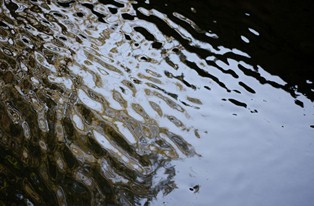 SALISBURY, MD---The Guerrieri University Center Art Space hosts the exhibit "Reflections" by senior art major Peter Smith from November 1-27.

Though he works in photography, Smith's inspiration comes from 1960s abstract expressionist painters such as Willem De Kooning and Philip Guston.

"They have inspired me to look at the composition of an image as much as the subject matter," he said. "Because of this, I look at a piece of art as a constructed image first and then consider the meaning. I try to compose pictures that are fun, enjoyable and intriguing, pictures that can be looked at hundreds of times and still found interesting."

In "Reflections," Smith uses water as a canvas to create flattened abstract images.

"Water is usually in motion and thus can create some stunning images when frozen in time with a photograph," he said.

The Art Space is located in the Guerrieri Center's second-floor concourse. Admission is free and the public is invited. For more information call 410-543-6247 or visit the Art Space Web site at http://www.salisbury.edu/guc/artspace.