Friday, May 30, 2014
Guerrieri Art Space Showcases Works By Hannah Nock June 3-July 3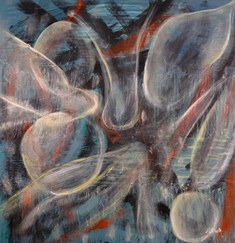 SALISBURY, MD---The Guerrieri University Center Art Space hosts the exhibit "The Colors of Your Mind" by Salisbury University alumna Hannah Nock from June 3-July 3.

The Princess Anne, MD, resident recently earned her B.A. in art, with concentrations in drawing and painting, from SU. She focuses on abstraction, with a focus on emotions and expression through lines, shapes and colors.

"I strive to dig into the mind and let my emotions wander with each mark I create. I live to paint, and what I feel definitely affects the way the paint rolls on the surface. I share feeling and movement with the space that is being created by my emotions. From the music playing to the way I am dressed or the post I just saw on Instagram, everything around me affects what exact stroke happens in that moment.

"I start with a blank possibility, followed by a variety of color options to fill the veins of my painting as my emotions spill out on the canvas for the world to view. I use color harmony as one of my main focuses to exude my emotions as they form into a technical process. I spend hours thinking about and mixing the next layer of paint. It could be an aesthetically pleasing composition, but without color harmony, it is meaningless.

"For my audience to get a sense of movement and strike a certain emotion, I use color harmony and different shapes. I create a feeling with each color I put on the canvas. I then use the movement of the lines and shapes to take them on the adventure of the art around the specific piece. My key goal is connecting with the people who see my art and making sure they enjoy it just as much as I do."

The Art Space is located in the Guerrieri Center's second-floor concourse. Admission is free and the public is invited. For more information call 410-543-6247 or visit the Art Space website at http://www.salisbury.edu/guc/artspace.