Friday, February 10, 2012
All-Suite Hotel Pioneer DeBoer Speaks at SU Thursday, March 1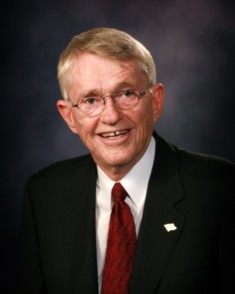 SALISBURY, MD---Not everyone may immediately recognize Jack DeBoer's name, though many have used his equipment, many have stayed at his hotels, and some are still trying to break his world air speed record.

DeBoer, founder of four hotel chains and the current chairman of Hix Corporation and Consolidated Holdings, Inc., is the next speaker in the Franklin P. Perdue School of Business' Executive Leadership Series at Salisbury University. His presentation is 3:30 p.m. Thursday, March 1, in Holloway Hall Auditorium. A reception follows in the Social Room.

DeBoer began his career selling real estate in high school in Kalamazoo, MI. He earned his business degree from Michigan State University in 1952. Following two years as a military police officer during the Korean War, he partnered with his father to build homes in southern Michigan. In 1966, he branched out into apartment construction, building more than 16,000 apartments in 25 states by 1973.

Two years later, he designed and built the first Residence Inn all-suite hotel in Wichita, KS. A pioneer of the concept, he built or franchised 100 of the hotels before selling the chain to the Marriott Corporation in 1987.

After developing the Grand Champions Club, a world-class tennis facility and health club in Aspen, CO, he returned to the lodging business in 1988 as co-founder of Summerfield Hotel Corporation, which was later sold to Hyatt. In 1995, he founded the Candlewood Hotel Company, developing 130 hotels over eight years before selling the chain to InterContinental Hotels Group in 2003.

In 1989, with business partner Bruce Huelat, he purchased Hix, a premier manufacturer of printing equipment, electric and gas dryers, and machines for the food service industry, sold worldwide. In 2002, he founded Value Place, a short-term apartment concept that now has 175 locations.

An active pilot, DeBoer frequently flies the corporate aircraft as captain. He holds the three-kilometer world speed record for jet aircraft under 18,000 pounds. In 1988, he and his wife, Marilyn, completed a four-month around-the-world trip in his Gulfstream II, following the history of mankind for the past 7,000 years and studying the world's needs. As a result, they are now deeply involved in World Vision projects in Burma and other countries.

DeBoer is also active in several business and civic organizations. He was a founder of Wichita State University's Center for Entrepreneurship, a trustee of the Innkeepers Real Estate Investment Trust and chairman of the board of trustees for Youth for Understanding, the world's leading student exchange organization, among other positions.

He has earned the University of California—Los Angeles' hotel industry Lifetime Achievement Award, the Lodging Conference's Above and Beyond Award, Michigan State University's Distinguished Alumni Award and an honorary Doctor of Humane Letters from Sterling College, KS.

Most recently, DeBoer authored the book Risk Only Money: Success in Business Without Risking Family, Friends and Reputation. Proceeds benefit World Vision.

Admission to his talk is free and the public is invited. For more information call 410-543-6030 or visit the SU Web site at www.salisbury.edu.