Monday, May 1, 2017
2017 SU Entrepreneurship Competition Winners Announced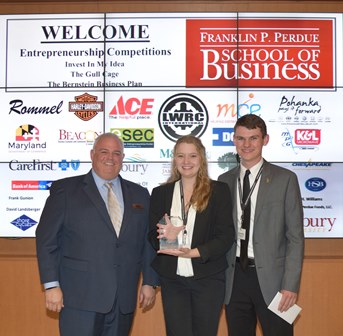 SALISBURY, MD---If one of the first laws of business is supply and demand, Salisbury University students Allen Reynolds and Katherine Hairsine are following that law to the letter.
The winners of Salisbury University's 30th Bernstein Achievement Award for Excellence, presented for the best student business plan submitted as part of SU's annual Entrepreneurship Competitions, based their idea for Reynolds Rentals, an upscale storage facility, on a need they observed in Reynolds' hometown, Smithsburg, MD.

The homeowners association (HOA) at a large development there recently began enforcing bylaws that make working on and storing boats and vehicles in driveways illegal. Because many of the homeowners also are avid motorcycle, boat, and antique and classic car owners, this has presented a problem: Where do they perform the routine maintenance required for the upkeep of such precision machines?

Reynolds, a sophomore business management major, and Hairsine, a senior international business and marketing major and member of SU's 2013 freshman Business Living Learning Community from Glen Arm, MD, began thinking about storage units. Currently, the only storage unit in Smithsburg is at 100 percent occupancy, Reynolds told the panel of judges, comprised of area business leaders. Its units also are small, not lit well enough for many maintenance tasks and lack electricity, he said.

Enter Reynolds Rentals, a "luxury" storage facility geared toward owners of the vehicles affected by the recent HOA change. At Reynolds' and Hairsine's planned facility, these enthusiasts would be able to store their vehicles inside climate controlled units, with plenty of LED lighting and electrical outlets — and perhaps most importantly, few limits on the types of maintenance that could be performed inside.

"This is not just a storage facility," said Hairsine. "It's a place where you can work on your weekend projects."

The area also has seen significant population growth in the past two years, said Reynolds, predicting he and Hairsine would have no problem filling the units once built — a task the $20,000 Bernstein Award should help.

The prize includes $10,000 from entrepreneur Richard Bernstein and LWRC International, LLC, as well as $5,000 from Rommel Holdings, Inc. and $5,000 in marketing services from the Business, Economic and Community Outreach Network (BEACON) in SU's Franklin P. Perdue School of Business.

The Perdue School hosts the annual competitions, sponsored this year by M&T Bank.

In addition to the Bernstein Award, Reynolds and Hairsine received $1,000 plus $2,500 in legal services from the Law Offices of James A. List, LLC as the third-place winner in the competitions' Gull Cage round, an elevator pitch session similar to ABC-TV's hit show Shark Tank. They also earned an additional $1,000 as one of 15 finalists in the competitions' "Invest in My Idea" poster session round for a total prize package of $24,500.

In all, a record 50 teams entered this year's competitions, up from 25 in 2016. While Reynolds and Hairsine were both Perdue School students, 30 percent of teams included students from SU's other three academic schools (Charles R. and Martha N. Fulton School of Liberal Arts, Richard A. Henson School of Science and Technology, and Samuel W. and Marilyn C. Seidel School of Education and Professional Studies) — another record — up from 10 percent last year. Some 50 percent of the "Invest in My Idea" round winners were from the Fulton, Henson and Seidel schools.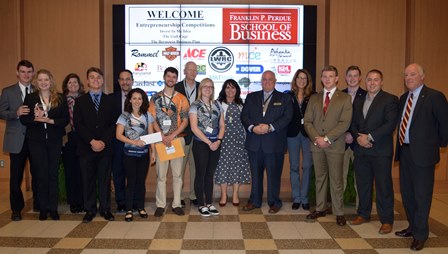 William Burke, SU executive director for economic development and director of the Entrepreneurship Competitions, attributed the increases in part to a University-wide campaign to inform those enrolled in all of SU's schools of the competitions and the resources available to them for preparation. These include the Perdue School's new Innovation, Entrepreneurship and Economic Development Hub.

There, members of SU's freshman and sophomore Entrepreneurship Living Learning Communities, and members of the University's Collegiate Entrepreneurship Organization (CEO) and Building Opportunities and Supporting Sisters (BOSS) programs provide student-to-student business plan and coaching services. Entrants also receive training and support from John Hickman, director of the Small Business Development Center at SU.

Placing second in the Bernstein competition was Instant Expert Tiling Systems, a series of plastic leveling pieces that allows both professionals and do-it-yourselfers to lay flat tile with no previous expertise. Senior Jacob Stevens of Ellicott City, MD, earned $10,000 ($5,000 each from the Maryland Department of Commerce and Maryland Capital Enterprises), along with $3,000 plus $2,000 in accounting and legal services, and a one-year membership to hotDesks, an Eastern Shore-based entrepreneurship service center, valued at $2,000, in earlier rounds for a total prize package of $17,000.

Other Entrepreneurship Competition winners included:

• AGLOCAM (study abroad and internship program) – Austin Dabbs, Julia Rey and Stefanny Castro

• Dïbble (shopping app) – Jorge Brito, Roman Fuentes and Jock Simon

• Eastern Shore Farm and Pet Supply (store proposed in Snow Hill, MD) – Katherine Grey

• EndlessMoves (event app) – Robert Juste and Darnell Smith

• FitPoints (fitness app) – Bryan Merriman, Kyle Tucker and Anthony Stavrakis

• Fog Farmer (city farming using fog) – Collin Moshedi

• Haya's Boutique (fashion store proposed in Pocomoke City, MD) – Hayley Dize

• MSFit (multiple sclerosis health site) – Jesse Price

• Neuro Helmet Systems (motorcycle helmet safety display) – Robert Cichielo, Benjamin Malesh, Matthew Newcomer and Megan Newcomer

• Rapid Response Aero-Medical (drone-based automatic external defibrillator) – Tyler Smith and William Tippett

• Student University Housing Ambassadors (student rental business) – Jacob Fazio, Jay Doaty and Pax Howard

• The Loop Medical Service System (family illness communication service) – Corey Barnard and Michael Quarantillo

• The Colassal Waffle (mobile waffle truck proposed in Salisbury) – Matthew Bosley

Also during the "Invest in My Idea" round, four Business Sector awards and a Director's Award for cross-campus collaboration were announced. Proposals honored included:

• Rapid Response Aero-Medical - City of Salisbury Award ($3,000 plus $2,000 in services), and Dover Corporation Best Product Award ($10,000)

• Neuro Helmet Systems – Salisbury Wicomico Economic Development Award ($1,000) and Director's Award ($1,000)

• FitPoints – CareFirst BlueCross BlueShield Award ($5,000)

Regardless of whether their proposals were selected for funding, all participants had the opportunity to win raffles with prizes donated by Shore Cycles, Layton's Chance, Rommel's ACE Hardware, Burley Oak Brewing Co., Plakthat.com and Beach Um.

This year's competitors also had the opportunity to record video pitches aboard the STRT1UP Road Show bus, which parked outside SU's Perdue Hall during the event. The videos will be uploaded to the organization's YouTube site, where the public may view them and vote on their favorites. Winners receive mentorship and automatic bids into selected venture competitions as part of the Startup Maryland regional initiative. For more information visit www.startupmd.org/pitchmd.



During the final awards ceremony, the local business leaders who volunteered their time as judges praised the students' efforts.

"It gets better every single year as far as the crispness of presentations and quality of ideas," said Mike Cottingham, president and CEO of Rommel Holdings, Inc.

"There's an incredible diversity of ideas and enthusiasm," added Kevin Bernstein, vice president of LWRC International, LLC, representing the Bernstein family.

"We're so proud of all of you taking the extra steps," said Kathy Kiernan, chair of the Perdue School Executive Advisory Council. "It makes us feel really positive about the future knowing there are people like you who are going to make it happen."

For more information call 410-543-6030 or visit the SU website at www.salisbury.edu.