Friday, November 11, 2016
12th Annual Shore Fraud Conference Held at SU Friday, November 18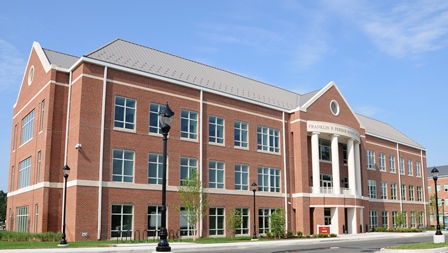 SALISBURY, MD---Some of the nation's most prominent anti-fraud experts convene at Salisbury University during the 12th annual Shore Fraud Conference 7 a.m.-5 p.m. Friday, November 18, in Perdue Hall's Bennett Auditorium.

Speakers include Dr. Amy Block Joy, faculty and cooperative extension specialist emeritus at the University of California, Davis (UC Davis); Bethmara Kessler, chief audit executive for the Campbell Soup Co.; Dr. Mark Nigrini, faculty at the University of West Virginia; and Nathan Mueller, former ING employee.

Block tells her personal story about the dangers — and importance — of speaking out about workplace embezzlement during the presentation "Telling the Truth at Any Cost: Retaliation and Finding Redemption." In 2006, she filed a whistleblower complaint against UC Davis, alleging fraudulent activities within the UC Food Stamp Nutrition Education Program, of which she was the director. The U.S. Department of Agriculture verified many of her claims, resulting in the California Department of Social Services' withholding some $2.3 million in funding from the university. She stepped down as director in 2007, ultimately reaching a personal settlement with UC Davis for nearly $90,000 over retaliation for her whistleblowing.

Kessler, former chief audit executive and co-chief compliance officer for Warner Music Group, has held leadership positions in audit, compliance, risk management, corporate investigation, business process improvement and information technology for leading companies including EMI Group, Avon Products, Nabisco and Ernst & Young. She speaks on "Ripped from the Headlines: Case Studies of Major Embezzlements."

Nigrini, author of Forensic Analytics, discusses "Uncovering Real-Life Fraud Cases: Using the Application of Data Analytics Methods." His forensic work has been featured in national media including the New York Times and Wall Street Journal, and he has consulted for national and international companies including Procter & Gamble, Burger King and American Airlines. In 2014, Nigrini and co-author Mueller won the Association for Computing Machinery's prestigious Eugene L. Lawler Award for Humanitarian Contributions within Computer Science and Informatics for their article "Lessons from an $8 Million Fraud" in the Journal of Accountancy.

Mueller played a key role in transitioning his former reinsurance company's operations into new owner ING's enterprise resource planning system before embarking on a four-year fraud scheme that resulted in the embezzlement of some $8.5 million. During his five-year federal prison sentence, which ended in 2014, he played an integral role in developing and expanding a community outreach program through which white-collar inmates spoke about business ethics. Nigrini discusses his case from an analytics perspective before Mueller provides a first-hand account.

The Delmarva and SU chapters of the Institute of Management Accountants (IMA), Accounting and Legal Studies Department of SU's Franklin P. Perdue School of Business and the Iota Pi Chapter of Beta Alpha Psi Accounting Honor Society sponsor the conference. This year's event is accredited by the National Association of State Boards of Accountancy as a member of the National Registry of Continuing Professional Education Sponsors.

The conference is open to the public. Cost is $120. For additional information including a brochure and registration form, call 410-430-0469, email rfabel@salisbury.edu or visit the conference website at www.shorefraudconference.com.