Friday, January 13, 2012
University Galleries Presents 'Young Country' January 17-February 26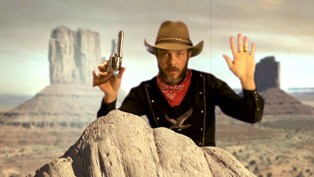 SALISBURY, MD---From horses to honkytonks, rural themes in contemporary American art are explored in the exhibit "Young Country," presented by Salisbury University Galleries from January 17-February 26.
The exhibit hangs in the University Gallery at Fulton Hall and the Atrium Gallery at the Guerrieri University Center.
Curator Maiza Hixson conducts interviews with members of the gallery audience on the images as part of a live media research project 1-5 p.m. Wednesday, February 15, in Fulton Hall Room 108. She speaks 5 p.m. Wednesday, February 22, followed by a reception from 6-8 p.m. in the University Gallery.
Hixson is the Gretchen Hupfel Curator of Contemporar Art at the Delaware Center for the Contemporary Arts (DCCA). She has extensive museum and curatorial experience, having worked for Philadelphia's Fabric Workshop and Museum, as well as Cincinnati's Contemporary Arts Center and Louisville, KY's J.B. Speed Art Museum. She has curated and organized a number of solo and group exhibitions.
"Young Country" is organized by the DCCA and has been showcased at the Quonset Hut gallery in Louisville, KY, and the University of the Arts' Rosenwald-Wolf Gallery in Philadelphia, among others. Artists contributing to the collection are from New York, Pennsylvania, Ohio, Kentucky, Texas, Washington and beyond.
Beyond folk or kitsch expression, the works exhibited often are critical and conceptual in origin, examining how the visual culture of geographic regions shapes perception and identity.
Gallery hours are 10 a.m.-7 p.m. Monday-Thursday, 10 a.m.-4 p.m. Friday-Saturday.
For more information visit the University Galleries Web site at www.salisbury.edu/universitygalleries.