Thursday, March 27, 2014
'University Business' Again Names SU a 'Model of Efficiency'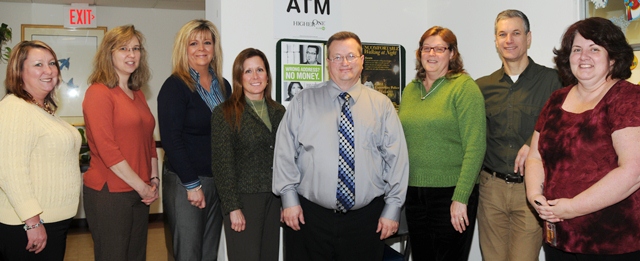 The implementation team, from left: Michelle Malone of the Cashier's Office, Michelle Thomason of Accounts Receivable, Diane Lawrance of Accounts Receivable, Tabitha Pilchard of Accounts Receivable, Comptroller Anthony Pasquariello, Robanne Mills of the Comptroller's Office, Mike Boolukos of Information Technology and Kim Daly of the Cashier's Office. Not pictured are Melody Baker of Information Technology, Allison Foltz of Information Technology, Debbie Kinnamon of the Comptroller's Office and Trina Paris of the Cashier's Office.
SALISBURY, MD---For the second time, University Business magazine has named Salisbury University among its spring "Models of Efficiency."
SU is one of only eight colleges and universities nationwide to receive this spring's honor. This year, the University received the accolade for streamlining its tuition payment and refund system.
"Having a more efficient tuition payment and refund system not only helps ensure that payments are made on time, but also reduces the workflow involved in this repetitive task," said Tim Goral, senior editor of University Business. "In addition to seeing a significant savings from automating these payment processes, Salisbury also should see a jump in student satisfaction, as well."
In at least one instance, it's what the University is not seeing that speaks to the success of the initiative. Since the new system was implemented the once-long lines for refund checks at the beginning of each semester have vanished.
With the help of Higher One, a leading financial technological services and data analytics provider, and sponsor of the Models of Efficiency program, SU is now able to post online payments to student accounts in real time. Higher One's software also handles all student refunds.
The tasks performed by this new system has freed up an estimated five to 10 hours a week for SU's Accounts Receivable Staff and an additional 40 hours per semester for the Cashier's Office.
And it doesn't end there: By this May, SU is expected to transition to all-electronic bills for students, saving approximately 100 personnel hours along with $15,000 in postage and paper costs annually.
"Being recognized once by the Models of Efficiency program was a great honor," said SU Comptroller Tony Pasquariello. "To receive the accolade twice in two years confirms that SU continues to operate as efficiently as possible, and we could not do that without the dedication and hard work of our staff."
In 2012, SU was recognized as a Model of Efficiency for developing economical and effective solutions to issues faced with its enterprise resource planning system in such areas as course evaluation, residence life management, student health records and athletic reporting. Software created and implemented by SU's technology team, working with other offices across campus, saved the University an estimated $20,000 annually in direct maintenance costs.
Other campuses recognized by University Business this spring included Texas A&M, the University of Iowa and the University of Massachusetts.
For more information call 410-543-6030 or visit the SU website at www.salisbury.edu. For the complete article visit www.universitybusiness.com/moe.