Friday, February 2, 2018
'The Amendments' Opens SU Theatre Spring Season Feb. 10-11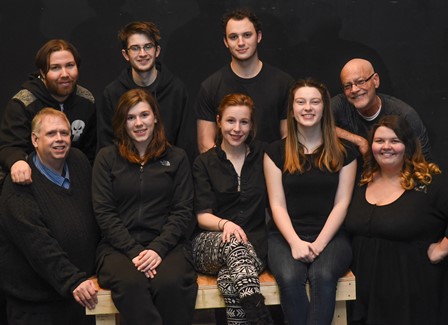 SALISBURY, MD---The Bobbi Biron Theatre Program of the Salisbury University Department of Music, Theatre and Dance opens its spring season with the reading of a new play, The Amendments, by Richard Culver.

Readings are Saturday, February 10, at 8 p.m. and Sunday, February 11, at 2 p.m. in the Black Box Theatre of Fulton Hall.

"This is the first time The Amendments will be heard by an audience. Like all such new scripts, it's a work in progress," said Culver. "I'm grateful that the theatre program, its students and staff, have embraced this experiment, and worked hard to explore its theatrical potential.

"Throughout rehearsals, the cast has been delving into characters and how to tell their story. I think they're doing some great work. Script changes have occurred at practically every rehearsal, frequently with suggestions from them. Ultimately, it will be stronger because of their efforts."

Following each reading, a Q & A will be held with the cast, author and interested members of the audience.

The story of The Amendments is character driven: Margaret, who works at a university in central Pennsylvania, agrees to take over the teaching of a class for an old friend after he is hospitalized with cancer. Margaret is a recovering alcoholic, and complications ensue as she struggles with family responsibilities, work issues and teaching while trying to stay sober.

The ensemble includes Chelsea Eline, Robert Forester, Bruce N. Glover, Joseph Groth, Caroline Lewis, Shane Love, Michael Mitchell, Alli Payne, Gigi Pesaniello and Gabriel Wohl.

Because of adult language and situations, The Amendments is recommended for mature audiences only.

Admission is $5. For ticket information call 410-543-6228 or in person at the SU Box Office, Fulton Hall Room 100. Box Office hours are 10 a.m-4 p.m. Monday-Friday.

The Amendments is followed by the musical Hairspray April 6-8 and 13-15 in Holloway Hall Auditorium.

For more information on the theatre season, call 410-548-5588 or visit the SU website at www.salisbury.edu.