Thursday, February 20, 2014
Sixth SU Guitar Festival is Friday-Saturday, February 28-March 1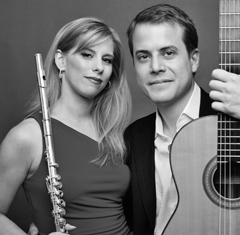 Arc Duo

SALISBURY, MD---Guitarists of all ages have the opportunity to participate in Salisbury University's sixth annual Guitar Festival and Competition, Friday-Saturday, February 28-March 1, featuring classes, workshops, competitions and concerts.

Friday provides guitarists of all styles, levels, ages and string types with opportunities to participate in workshops hosted by Brooklyn-based guitar duo Threefifty and by Michael Byle of Paul Reed Smith Guitars. Check-in begins at 3:30 p.m. in the Holloway Hall Social Room.

Comprised of Brett Parnell and Geremy Schulick, Threefifty has been described as a "post-Baroque-folk-rock" band, influenced by George Harrison, Chet Atkins and Randy Rhoads, among others. The duo tours internationally and has performed on TED Talks and National Public Radio's Soundcheck. Byle is the senior acoustic luthier at Paul Reed Smith, whose guitars are played by legends including Carlos Santana and Dave Navarro.

For beginning students, Dr. Danielle Cumming, festival director, leads the workshop "Guitar from Scratch." The head of guitar studies at SU, Cumming has performed as a soloist and in chamber ensembles in the United States, Canada and Europe. She holds a Doctorate of Music in guitar performance from McGill University.

Saturday's activities focus on classical guitar. Participants may register online or during Saturday check-in from 9:30 – 10 a.m. in the Great Hall of Holloway Hall. Master class teachers include Arc Duo members Bradley Colten and Heather Holden; Matt Palmer of The Virtuoso Guitarist; and SU alumnus and classical guitarist Jason Balish; along with Parnell, Schulick, Byle and Cumming.

Playing competitions take place throughout the day. Participants compete in three age categories: 11 and under, 12-15 and 16-18. Advance registration is required. For rules and deadlines visit the festival website at www.salisbury.edu/guitarfestival.

All may play in the Participants' Ensemble which celebrates composer Leo Brouwer's 75th birthday by performing his "Cuban Landscape with Rain" and "Acerca del Cielo" at 5 p.m. in the Great Hall, followed by featured performers the Arc Duo and the announcement of competition winners. (The final performance time may be adjusted to accommodate master classes and competitions based on the number of entries.) Throughout the day on Saturday, The Kirkpatrick Guitar Studio will have guitars and scores for sale in the Social Room.

Soundboard Magazine has hailed the Arc Duo as "masterful and stylish." The guitarist and flutist have performed throughout North America and Europe, including Carnegie Hall and Lincoln Center. Guitar Review lauds the group as "electrifying, reflective and always engaging," with a repertoire blending both traditional and contemporary works. Admission to its SU concert is free for festival participants, and open to the public for suggested donation $5.

Classes and workshops on both days are open to all ages, skill levels and string type; however, competitions are limited to guitarists ages 18 and under.

Friday registration is $10, $5 for SU students with ID. Admission for parents accompanying their children to Friday's activities is free. Saturday registration is $50 for participants, $15 for parents, including all classes, activities and lunch. Advance registration is available online at www.salisbury.edu/guitarfestival. Day-of registration is available, but those registering that weekend may not be assured of participation in master classes or competitions due to scheduling limitations.

The festival is sponsored by the D'Addario Foundation and Salisbury Wicomico Arts Council, with support from the National Endowment for the Arts and Maryland State Arts Council.

For more information, call Cumming at 410-677-3269, e-mail dmcumming@salisbury.edu or visit the festival website.