Wednesday, March 25, 2015
'Shark Tank' Casting Call Returns to SU May 9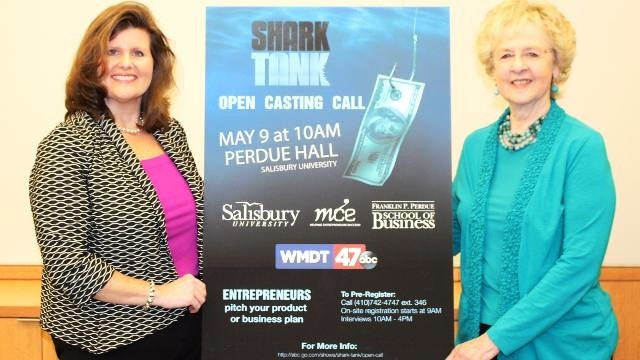 Perdue School Dean Christy Weer, left, with 47 ABC General Manager Kathleen McLain

SALISBURY, MD---Have a million-dollar idea? Want to pitch it to Shark Tank? 47 ABC and Salisbury University's Franklin P. Perdue School of Business recently announced the return of the Shark Tank casting call to Salisbury.

"We are honored and excited to have the casting manager of Shark Tank come to Salisbury two years in a row," said 47 ABC General Manager Kathleen McLain.

The casting call will take place Saturday, May 9, at Perdue Hall. On-site registration starts at 9 a.m. and tapings at 10 a.m. Walk-ins will be accepted, but those interested may pre-register to guarantee a time slot. Pre-registration is now open; call the 47 ABC offices at 410-742-4747, ext. 346.

All entrants will tape a short video that will be sent to the casting offices of the hit ABC show Shark Tank for review and possible selection. For more information on the casting call, visit the 47 ABC website at www.47abc.com.

The Shark Tank casting call wraps up three days of entrepreneurship competitions at the Franklin P. Perdue School of Business. Leading up to the casting call on Thursday, May 7, is the Ratcliffe Shore Hatchery competition, sponsored by the Philip E. and Carole R. Ratcliffe Foundation, and Friday is the Student Entrepreneurship Competition, including the Bernstein Achievement Award for Excellence.

For more information on these entrepreneurship competitions, call 410-543-6030 or visit the SU website at www.salisbury.edu.