Wednesday, March 12, 2014
Senator Middleton Named SU's 2014 Hargreaves Fellow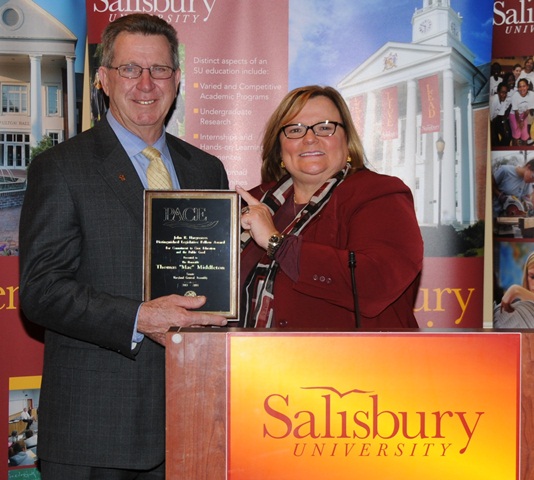 SALISBURY, MD---Maryland Senator Thomas M. "Mac" Middleton is Salisbury University's 2014 John R. Hargreaves Distinguished Legislative Fellow.

In recognition of outstanding public service, the award was presented by SU President Janet Dudley-Eshbach in a ceremony at the Miller Senate Office Building in Annapolis.

"For decades, Senator 'Mac' Middleton has been committed to improving quality of life for residents of Charles County and the State of Maryland," Dudley-Eshbach said. "Through his hard work, leadership roles and dedication to such important issues as education, health care and the environment, he truly exemplifies the best qualities of a public servant. He is an excellent role model for our students as they explore careers in government."

A lifelong resident of Charles County, Middleton is a four-term senator first elected to represent District 28 in 1995. He is the owner and operator of Cedar Hill Farm, near Waldorf, MD, and is the only full-time farmer in the Maryland General Assembly.

For nearly 20 years, Middleton has co-chaired the Joint Subcommittee on Program Open Space and Agricultural Land Preservation. In 2002, he became chair of the Senate Finance Committee. He also co-chairs a joint oversight committee on the Maryland Health Benefit Exchange and is a member of committees for legislative policy, spending affordability, nominations and rules.

Part of the Maryland Rural and Veterans caucuses, Middleton also is a member of the Southern States Energy Board and Chesapeake Bay Commission, and the board of directors for the Harry R. Hughes Center for Agro-Ecology. In 2012, he was named Legislator of the Year by the Maryland Association of Resources for Families and Youth.

"The Hargreaves Fellowship salutes public servants and allows SU students to meet with outstanding state legislators to learn firsthand about the responsibilities and rewards of their work," said Dr. Maarten Pereboom, dean of SU's Charles R. and Martha N. Fulton School of Liberal Arts. "We look forward to Senator Middleton's visit to campus later this spring."

One of 14 siblings, Middleton earned a B.S. in biology from Mount St. Mary's College in Emmitsburg, MD, and served three years in the U.S. Army. In 1978 he joined the Charles County Planning Commission to help foster growth management in his region. In 1986, he was elected president of the Charles County Commissioners.

He and his wife, Joan, have three children. Their son, Bret, earned a B.S. in business administration from SU in 2004.

Middleton is the 13th recipient of the Hargreaves Fellowship. Past honorees include House Speaker Michael Busch; Senate President Thomas V. "Mike" Miller; senators J. Lowell Stoltzfus, Brian Frosh and Rob Garagiola; and delegates John Bohanan, Talmadge Branch, Addie Eckhardt, Sheila Hixson, Adrienne Jones, Norman Conway and the late Howard "Pete" Rawlings. Sponsored by SU's Institute for Public Affairs and Civic Engagement (PACE), the award was made possible by contributions to SU in memory of the late John R. Hargreaves, a former legislator from Caroline County.

For more information call 410-543-6030 or visit the SU website at www.salisbury.edu.