Wednesday, November 5, 2014
Samantha Brekosky's Pizza Design Wins the Sophomore Year Experience T-shirt Design Contest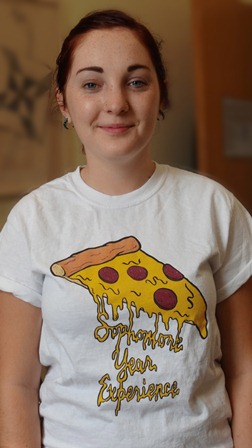 SALISBURY, MD---Organizers of Salisbury University's Sophomore Year Experience asked students to design a T-shirt. Salisbury University junior Samantha Brekosky delivered pizza.

Brekosky, a fine art major from Frederick, MD, is the winner of this year's SU Sophomore Year Experience T-shirt design contest. Her image, featuring a slice of pepperoni pizza with the program's name spelled out in melted cheese, symbolizes her idea of the college experience: evenings working on projects with classmates while enjoying the late-night snack often associated with students.

"It's cheap and it's good," she said, summarizing the key elements that make the food so attractive to her and her peers.

"Pizza imagery has emerged as a mini-trend with celebrities and fashionistas," said Brooke Rogers, chair of SU's Art Department. "Beyoncé and Katy Perry are rocking pizza clothing just like our sophomores."

Two months after the shirt's release, Brekosky has become synonymous with the food on campus. Friends send her images of other pizza-themed items, and she often encounters the shirt she designed.

"There's a girl in my yoga class who wears it all the time," she said.

For her efforts, Brekosky won a $100 gift card to the SU Bookstore. She promptly put the money back into her artistic endeavors, purchasing film and darkroom supplies for the photography class she is taking this semester.

Created last fall, the Sophomore Year Experience program provides a cohesive series of events for SU's second-year students, including departmental gatherings, projects focusing on campus and community involvement, and social functions such as an annual End-of-Summer Bash.

For more information call 410-543-6030 or visit the SU website at www.salisbury.edu.