Monday, April 9, 2012
Salisbury, University Chorales Perform Sunday, April 15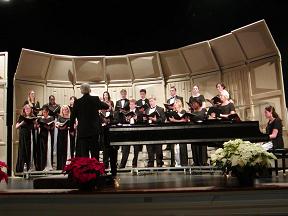 SALISBURY, MD---Notable works by two prolific composers—one from the 19th century and one from the 21st—higlight a combined performance by the Salisbury and University chorales Sunday, April 15.

Under the direction of Dr. William Folger, Salisbury University director of choral studies, singers perform Gabriel Fauré's Requiem and John Corigliano's Fern Hill at 4:30 p.m. in Holloway Hall Auditorium.

Fauré began work on Requiem in 1887 "for the pleasure of it," though musical historians suspect the death of his father in 1885 and mother in 1887 may have played a part. It was first performed on January 16, 1888, at a funeral service for M. Joseph Le Soufaché at the Madeleine in Paris. The unique work does not include the complete liturgical text, but instead places an emphasis on rest and peace, minimizing the traditional "Day of Judgment" sequence.

Soloists for the SU performance include soprano Caitlyn Howard on "Pie Jesu," baritone Michael Pistorio on "Hostias" and bass Terron Quailes on "Libera Me."

Corigliano is an active and prolific composer, perhaps best known for scoring the movie The Red Violin. His Fern Hill is a setting of the popular Dylan Thomas poem of the same name. SU alumna Kathrin Thawley solos.

Both selections are accompanied by chamber orchestra, with Susan Zimmer on organ.

Admission is $10, $8 for seniors age 62 and over. SU ID holders receive one ticket free. Donations are accepted at the door.

For more information call 410-543-6385 or visit the SU Web site at www.salisbury.edu.