Friday, October 24, 2014
Salisbury, University Chorales Perform Saturday, November 15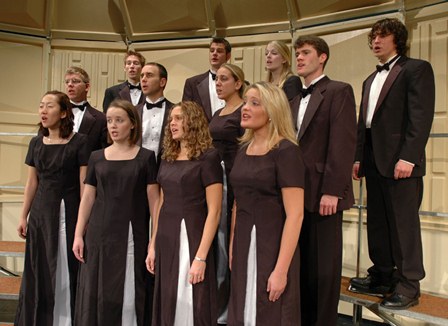 SALISBURY, MD---The Salisbury and University chorales pay tribute to the 200th anniversary of "The Star-Spangled Banner" during their annual winter concert 7:30 p.m. Saturday, November 15, in Salisbury University's Holloway Hall Auditorium.

Their three-part performance, "Peace, Parody and Patriotism" with holiday and sacred music, inaugurates this year's SU Winter Music Festival. Dr. William Folger, chair of the Department of Music, directs.

"Peace" selections include the traditional English carol "Tomorrow Shall Be My Dancing Day," as well as Gjeilo's hymn "Ubi Caritas" and Lauridsen's "O Magnum Mysterium."



Works by Gilbert and Sullivan represent the "Parody" portion of the program, including "Welcome, Gentry" from Ruddigore, or The Witch's Curse and "Poor Wandering One" from The Pirates of Penzance. Also featured is "Tonight" from Bernstein's West Side Story.

The concert culminates with "Patriotism," featuring an armed forces medley and all four verses of "The Star-Spangled Banner."

Sponsored by the Department of Music, admission is by donation at the door. The public is invited. For more information call 410-543-6385 or visit the SU website at www.salisbury.edu.