Monday, October 21, 2013
Salisbury Symphony Orchestra Hosts Allegheny Trio 'Beethoven Bookends' Concert Nov. 3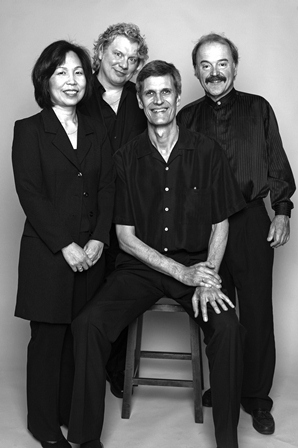 SALISBURY, MD---The Salisbury Symphony Orchestra at Salisbury University (SSO) hosts a "Beethoven Bookends" chamber concert with the Allegheny Trio and guest clarinetist Les Nicholas 7 p.m. Sunday, November 3, in the Great Hall of Holloway Hall.
The musicians perform an all-Beethoven program including Clarinet Trio, Op. 11 and the famed Archduke Piano Trio, Op. 97. Dr. Tim Miller of SU's History Department accompanies the performers with commentary on the cultural impact of the French Revolution and Beethoven's musical response. A dessert and champagne reception follows.
Comprised of cellist Jeffrey Schoyen, violinist Sachiho Murasugi and pianist Ernest Baretta, the trio is named for the Allegheny River, which flows through the Pittsburgh area where the musicians originally played together. They reunited as a trio upon moving to the Eastern Shore.
Conductor and music director of the Salisbury Symphony Orchestra (SSO) and the Salisbury Youth Orchestra, Schoyen teaches cello and bass at SU. He has given concerts throughout the United States, Germany, Mexico and Spain, and received a Frank Huntington Beebe Grant to study in London with William Pleeth. He is also a Tanglewood Gustav Golden Award recipient. Schoyen honed his cello skills at the New England Conservatory of Music and Carnegie Mellon University, before earning his D.M.A. at the State University of New York at Stony Brook.
Murasugi has performed extensively as a professional orchestral and chamber musician. She has been concertmaster of the Sorg Opera Orchestra in Ohio and the Filarmonic del Bajio in Mexico. She also has been a member of the West Virginia Symphony, Louisiana Philharmonic and Springfield Symphony. She received the National Endowment for the Arts Rural Residency Grant in chamber music and performed a recital at Museo del Prado in Madrid that was broadcast on Radio Nacional de Espana. Holding a D.M.A. from Ohio State University, she is concertmaster for the SSO.
A successful soloist and chamber musician, Barretta has performed extensively throughout the U.S. and Canada. A member of the piano faculty at Juilliard School of Music, he recently appeared at the Seoul Music Festival and Academy in South Korea. A collaborative artist, he has played with such internationally recognized musicians as baritone Christopher Robertson and trumpeter Terry Everson. He studied at Oberlin Conservatory and earned a D.M.A. from Peabody Conservatory.
Nicholas has performed at Alice Tully Hall, Lincoln Center, the Kennedy Center for the Performing Arts and other national venues. He has served as principal clarinetist with New York's Classic Chamber Orchestra, the West Virginia Symphony, the Dallas Chamber Orchestra and the New York Harlem Opera, among others. Internationally, he has played at festivals in Austria and Italy, and elsewhere in Europe. Dedicated to passing on his love of the clarinet, he currently teaches at Eastern Mennonite University. He holds performance degrees from the University of Texas and Northwestern University.
Their performance is sponsored by Eastern Shore Coffee & Water, Erick Sahler Serigraphs, Kuhn's Jewelers, the Maryland State Arts Council, National Endowment for the Arts, Salisbury Wicomico Arts Council and Samples & Associates Insurance & Financial.
Tickets are $30 and available via the SSO website at www.SalisburySympyhonyOrchestra.org or at the Information Desk of the Guerrieri University Center.
For more information call 410-548-5587 or visit the SSO website.