Friday, October 18, 2013
SU Foundation Honors Retiring Board Members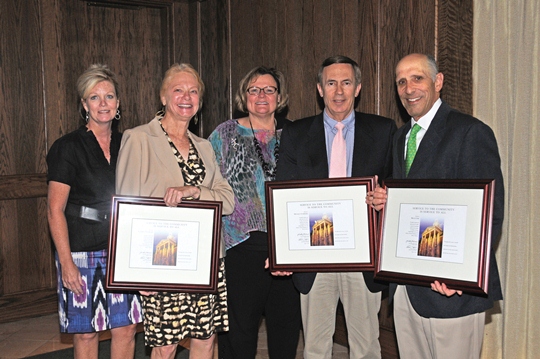 SALISBURY, MD---The Salisbury University Foundation, Inc. has honored three retiring members of its board of directors: Bruce Cort, Michael Guerrieri and Kathryn Washburn. Each has served 15 years or more.

"We are most grateful for the dedication that Bruce, Michael and Kathryn have shown over the years," said T. Greg Prince, Foundation executive director. "All have generously supported endowments for student scholarships, and they are lifetime members of our President's Club and Sea Gull Society. They are, and will remain, remarkable friends of SU."

Cort earned a B.A. in history from SU in 1971 and joined the board in 1994. He chaired its Gifts and Development Committee, and served on the Nominations Committee and Campaign 2012 team.

In honor of his father, Irving Cort, a chief chemical officer for the U.S. Army, Cort has funded scholarships, research and equipment for students in SU's Chemistry Department. (One recent Cort Scholar went on to earn the prestigious Gates Cambridge Award.)

Cort also has supported other SU efforts, including the Alumni House, business and economics programs, and Justin Shen Memorial Fund. President/CEO of an aircraft sale, lease and charter company, he served on the Perdue School of Business advisory board. In 2002, the Alumni Association recognized Cort with its Lifetime Achievement Award.

Guerrieri and Washburn officially joined the Foundation board together around 1998, although both have been longtime supporters of SU.

Guerrieri took classes on campus before graduating from Lehigh University with a finance degree. He has served as vice chair and secretary, and led the board's Investment Committee.

His family's name is synonymous with philanthropy at SU. In 1990, they established the Guerrieri Scholars Program and the Guerrieri University Center was named in their honor. In 2000, the Guerrieri Research Fund began providing equipment, lab materials and undergraduate research support for students and faculty in the Henson School of Science and Technology. And, in May 2103, the Guerrieri Family Foundation announced $8 million for the future Patricia R. Guerrieri Academic Commons.

Washburn served on the Foundation's public radio committee and has supported WSCL/WSDL. Actively involved with SU's Edward H. Nabb Research Center for Delmarva History and Culture, she remains on its board of directors and recently helped start a Delmarva oral history project. Her late husband, Wilcomb, who directed American Studies at the Smithsonian, donated a significant collection of books on colonial history and Native Americans to the center.

A supporter of students, Washburn established an SU scholarship for graduates of Washington High School in Princess Anne, MD, who demonstrate high SAT achievement. The former director of international affairs for the U.S. Department of the Interior, she also has assisted Perdue School students with skills including interviewing.

Created in 1973, the mission of the SU Foundation is to accumulate funds by gift and investment to foster, encourage and enrich the activities, educational programs, athletics and scholarships of SU for its students.

"Our three retirees have truly embodied our mission," Prince said. "Their good work and vision through the years is now coming to fruition. Because of their past efforts, the SU Foundation is an increasingly desirable volunteer board for which to be selected and to serve. We are thankful for their service and support."

Pictured above (from left) are SU Foundation Board Vice Chair Amy Tilghman Miller, Washburn, SU President Janet Dudley-Eshbach, Guerrieri and Cort.

For more information call 410-543-6030 or visit the SU website at www.salisbury.edu.