Friday, August 30, 2013
SU's Wenke Debuts in 'Salinger' Documentary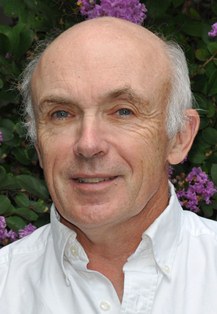 SALISBURY, MD--When Salinger, a high-profile documentary by Shane Salerno about one of America's most enigmatic literary figures, opens nationwide in 300 theatres on Friday, September 13, audiences will see interviews with some of the country's most prominent literati and J.D. Salinger fans.
According to Salerno, some 200 people were interviewed for the project. Among them are playwright John Guare, novelists E.L. Doctorow and Tom Wolfe, actors Philip Seymour Hoffman, Ed Norton, John Cusak and Danny DeVito -- and Dr. John Wenke, an English professor at Salisbury University.
Salinger has been a labor of love for writer/director/producer Salerno, who has devoted some $2 million of his own money and nine years in bringing it to the screen, according to one New York Times story.
A recognized scholar on Salinger's work, Wenke wrote the first book-length study of Salinger's uncollected and collected short fiction. Unknown to many, Salinger served in Army intelligence in World War II, landing in Normandy on D-Day. Before, after and during the war, however, he was writing, even sending stories home from the European theatre. He had his highest number printed in 1945. The war obviously shaded these stories and Salinger, a theme of the documentary, according to the New York Times.
Another early theme of the stories and more fully developed in The Catcher in the Rye was his preoccupation with reclusiveness. After 1965 he refused to publish or be interviewed, living in seclusion in Cornish, NH. The movie solves many of the mysteries regarding Salinger's life and work, especially the mystery of whether he continued to write.
Not only is the "author-in-absentia" getting his own feature-length, star-filled documentary, distributed by the high-powered Weinstein Company; but a 700-page book on his life and work, co-authored by Salerno and David Shields, a New York Times best-selling author; and a special broadcast on PBS's American Masters as the program's 200th episode in January 2014.
Salinger's known literary output is small, but his Catcher in the Rye is one of the most celebrated, influential and, at times, controversial American novels of the 20th century, according to critics. "Salinger is one of the few authors I know of who has actually changed people's lives," Wenke said.
Now 40, Salerno is a movie and television insider, voted by Detour magazine as one of "Hollywood's true shapers of popular culture." He started working in the industry out of high school and has written or produced such popular blockbusters as Armageddon, Shaft, Ghost Rider, Alien vs. Predator movies, the award-winning Hawaii Five-0 television series and Oliver Stone's Savages, among many others. Wenke hopes Salerno will be able to visit the SU campus this academic year.
For more information, call 410-543-6030 or visit the SU website at www.salisbury.edu.