Wednesday, December 5, 2012
SU's St. Regis Exhibits Inspirational Artwork Thursday, December 6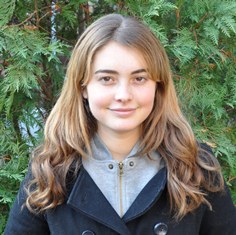 SALISBURY, MD---Some artists paint still lifes. Salisbury University junior Camille St. Regis paints potential lives.
For her creative honors project, the Bellavance Honors Program student and English major from Gaithersburg, MD, sought out individuals whose lives had been impacted by tragedy. She then painted portraits — not of who they were, but of the people they aspired to be. Their dreams included everything from pursuing a career in engineering from a wheelchair to becoming the first African-American prima ballerina in a traditionally Caucasian dance company.
An exhibit of her work from the project is displayed 5-7 p.m. Thursday, December 6, in the Florida room of the Bellavance Honors House, 1122 Camden Ave.
As inspirational as her subjects' stories were, the inspiration for the project itself came from a more familiar source — her mother, Lisa Levenbach. Hoping to pursue a Fulbright fellowship to Rwanda following her expected graduation from SU next spring, St. Regis thought of ways she could use her art to help empower people in that country. When she came up with the idea of painting their aspirations, Levenbach suggested she implement it first in her own backyard.
Together, they combed through newspaper articles and Internet stories, seeking people in the Gaithersburg area who could benefit from the project. Some were using their own challenges to help others. One subject, for instance, was paralyzed after using heroin; she now speaks to high school students about the dangers of drugs. Another, a paraplegic, promotes a therapeutic horseback riding program.
Others were in the process of getting their lives back together. St. Regis met three of her subjects while attending a youth summit for drug and alcohol addiction. The summit leader encouraged her to continue her project to aid individuals at a halfway house he helps run.
Prior to painting her subjects, St. Regis interviewed and sketched or photographed them, using these tools as the basis for her art. With the help of her father, designer Marc St. Regis of Stevenson Ranch, CA, she created a booklet featuring the paintings and brief biographies based on her interviews.
A student research grant from SU's Charles R. and Martha N. Fulton School of Liberal Arts allowed her to print 100 copies, which she plans to have available at the exhibit. Any left over will go to the halfway house in hopes of inspiring its residents.
"Camille is truly one of SU's most outstanding students, with a solid work ethic and a commitment to always going the extra steps to excellence," said Dr. Lucy Morrison, her advisor and mentor in the Honors Program. "She believes in doing her best at all she undertakes and in the ways in which she gives back to the community."
Following her exhibit at SU, St. Regis hopes to schedule a similar showing in Gaithersburg. She will then present the portraits to their subjects, along with copies of the booklet.
"I've always wanted to give back, and this is my way of doing it," she said.
After leaving SU, St. Regis hopes to spend time teaching English abroad. However, that does not mean she intends to abandon the project that has come to mean so much to her and those she paints.
"I hope to take it with me and continue it wherever I go," she said.
For more information call 410-543-6030 or visit the SU Web site at www.salisbury.edu.