Wednesday, December 5, 2012
Mika Karni and Kol Dodi to Perform at SU Tuesday, December 11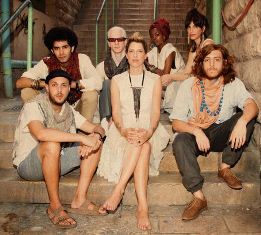 SALISBURY, MD---For years, Mika Karni has been a gifted original voice in the Israeli music scene.

She brings her newest project, Kol Dodi, to Salisbury University 7 p.m. Tuesday, December 11, in Holloway Hall Auditorium.

Kol Dodi is a musical ensemble of Israeli Moroccan, Yemenite and Ethiopian musicians and singers. They bring to the stage the first musical version of "Shir Ha'Shirim" ("The Song of Songs"), one of the five Megilot of the Hebrew Bible.

The sacred scroll, providing an allegory of the relationship between Ha'Shem and the people of Israel in terms of the love between a man and a woman, is traditionally recited on Pesach, the holiday celebrating the liberation of the Jewish people from slavery in Egypt.

University Dining Services' annual Hanukkah dinner precedes the concert from 4:30-7:30 p.m. in the Commons. The menu includes beef brisket with vegetable gravy, matzo ball soup, couscous, apricot chicken, mashed potatoes, potato latkes with horseradish sour cream, applesauce with cinnamon and brown sugar, zucchini gelt, challah bread, apple knish, Hanukkah cake, jelly doughnuts, Hanukkah gelt (chocolate coins) and Hanukah punch. Cost is $11.09, $6.73 for children ages 5 and under. (Note: SU does not have a Kosher kitchen.)

Sponsored by the Office of Cultural Affairs, the Embassy of Israel to the United States and World Artists Experiences, Inc., admission to the concert is free and the public is invited.

For more information call 410-543-6030 or visit the SU Web site at www.salisbury.edu.