Monday, December 12, 2011
SU's Newton Examines 'BBC Television and Black Britons' in New Book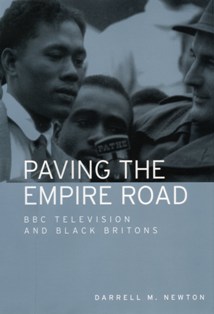 SALISBURY, MD---Unknown to many in the United Kingdom and United States, West Indian immigrants began influencing broadcast policies at the BBC in the 1930s.

As racial tensions mounted over the next several decades, the corporation used input from these and other black Britons to produce programming aimed at promoting understanding among individuals despite racism, discrimination and what was called England's "colour bar."

Dr. Darrell Newton of Salisbury University's Communication Arts Department examines this influence in depth in his new book, Paving the Empire Road: BBC Television and Black Britons.

Released internationally in Europe, Asia and North America by Manchester University Press, the book has drawn rave reviews from historians and broadcast industry leaders. These include Stephen Bourne, one of the preeminent scholars on black Britons, who sent Newton his well wishes after receiving an advance copy.

Newton based the book in part on his dissertation, which covered the topic of race and BBC broadcast policy. Research for the book took about 10 years, with writing comprising another four. Much of the research was based on archival records from the BBC's archive center in Reading, England, near London, as well as the White City BBC broadcasting center and Bournemouth University. From there, he interviewed many former and current BBC broadcasters, actors, executives and other employees, as well as scholars such as Bourne.

According to Newton, the BBC took a harder look at its broadcast policies as the migration of West Indians to the UK expanded.

"The concern was that as West Indians increased their immigration to England, racial tensions began to grow in lower socio-economic areas," he said.

Immigrants saw early attempts by the BBC to assist with the issue through educational programming as helpful, but patronizing. This included the critically lauded 1956 documentary A Man from the Sun, which attempted to frame the immigrant experience for British television audiences from the West Indian settlers' point of view.

The corporation then turned to West Indians themselves for help in presenting more representative programming. The advent of BBC2 afforded the corporation a wider canvas to address racial issues and social tensions following riots in Nottingham and Notting Hill.

Support for Newton's research came from SU's Charles R. and Martha N. Fulton School of Liberal Arts Dean's Office and Grants Committee, as well as the Salisbury University Foundation, Inc.

For more information call 410-543-6030 or visit the SU Web site at www.salisbury.edu.