Monday, December 12, 2011
SU Welcomes New STEM Coordinator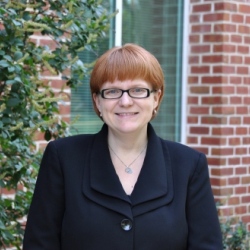 SALISBURY, MD---Growing up, Kristen Edwards was told by an elementary school science teacher that girls "have no place in the science field." She responded that she would prove him wrong — and she has.

Edwards was recently named Salisbury University's new Science, Technology, Engineering and Mathematics (STEM) coordinator. Previously, she was an award-winning high school science teacher, including being a two-term recipient of the Albert Einstein Distinguished Educator Fellowship.

"I grew up in a home where my natural inclination to be inquisitive, to explore the world around me, was, thankfully, encouraged," said Edwards, the daughter of a chemical engineer and a biology teacher. A longtime Girl Scout who was awarded its highest achievement, the Gold Award, in 1994, she has always loved the outdoors.

"There was never a doubt in my mind that I would do something 'science-y' as an adult," she added. Working within the Richard A. Henson School of Science and Technology, Edwards now manages the University's STEM initiatives. This includes Science Nights @ SU and Science Camp @ SU programs, and the Maryland Science Olympiad's second Eastern Shore tournament, to be held at SU in March 2012. She also is helping the University implement the second year of its $996,303 National Science Foundation grant designed to recruit STEM majors and increase STEM graduates.

"Kristen is advancing state STEM initiatives by focusing on access and preparation," said Henson School Dean Karen Olmstead. "With experience in the classroom and at the federal level, she provides insightful perspectives and is implementing strategies for success."

The Einstein Fellowship offers K-12 STEM teachers opportunities to serve in the national public policy arena through 11-month federal or congressional appointments. Edwards worked in the Office of Education at NASA headquarters, contributing practical insights and a "real world" educational perspective to federal policy makers and program managers.

At the 2010 Space Fair at Malaysia's Melaka Planetarium, she spoke on incorporating NASA content into classroom instruction. She worked with NASA Wallops Flight Facility and Mid-Atlantic Institute for Space and Technology to implement two middle school summer camps on the Eastern Shore. She served as a peer reviewer and judge for NASA, the National Science Foundation, Air Force Association, Department of Energy and Science Magazine. She also was a panelist for two events sponsored by the Woodrow Wilson Center for International Scholars.

In 2000, Edwards joined Teach for America. For nine years, she coordinated science labs and taught biology and human anatomy and physiology at an Arkansas high school. She earned her B.A. in biology from the University of Minnesota-Twin Cities in 1998 and studied marine science at the University of South Alabama.

She received the 2003 Arkansas Governor's School Outstanding Educator Award and a 2007 National Science Foundation Research Experiences for Teachers Award, and was a 2009 nominee for the Presidential Award for Excellence in Mathematics and Science Teaching.

For more information, call 410-543-6030 or visit the SU STEM Web site at http://www.salisbury.edu/henson/STEM/.