Tuesday, December 12, 2017
SU's Martin Publishes 'Transdiciplinarity Revealed: What Librarians Need to Know'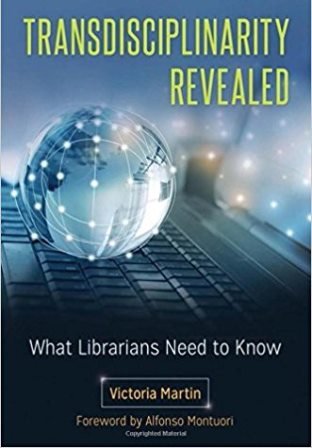 SALISBURY, MD---When it comes to issues such as national security, sustainability or human health risks resulting from new technologies, many scholars agree on one thing: It's impossible for a single academic discipline, or even multiple disciplines, to determine solutions.
Enter transdisciplinary research.
The concept, introduced by Swiss psychologist Jean Piaget in 1970 and furthered by Basarab Nicolescu, founder of the International Center for Transdisciplinary Research and Studies (CIRET), has increased in popularity in recent years. It allows collaborators from multiple disciplines to partner with non-academics to tackle real-world societal problems in a way that looks at actual issues instead of simplified "laboratory" versions of them.
Victoria Martin, scholarly communications librarian at Salisbury University, examined the idea in her new book, Transdiciplinarity Revealed: What Librarians Need to Know.
"By including academic and non-academic participants in the research process, 'transdisciplinarity' transcends not only disciplinary boundaries, but also the boundaries between science and society," she said. "By bridging that gap, it generates knowledge that is more socially valuable."
A research team studying the issue of addiction, for example, may include not only academics who have researched the problem from a scientific standpoint, but also medical professionals who have treated patients for the issue, law enforcement officers who have seen its effects in real-world situations and even recovering addicts who can provide first-hand information on their situations.
With the book, Martin hoped to "reveal some of the mysteries" surrounding the concept and raise its awareness among her peers while learning more about it herself.
"While all librarians are being challenged by transdisciplinarity, academic and research librarians, in particular, are at the forefront of this challenge because of the shift toward transdisciplinarity that is occurring within the academic and research community," she said.
Some of those challenges include organizing and navigating resources to ensure researchers have access to the most relevant information, as well as keeping up to date with new knowledge generated by the research. Transdisciplinarity also requires librarians to cultivate attitudes and mindsets that are similar to those expected of transdisciplinary scholars themselves, such as intellectual flexibility, open-mindedness, creativity and commitment to lifelong learning, Martin said.
Reviewers have praised the book for its timeliness and its in-depth look at the sometimes complicated topic. Online trade publication Against the Grain selected it as a "Book of the Week," calling it "an invaluable book on the emergent field."
Another online trade publication, Choice, selected it among its "Editors' Picks" for November, noting that Martin "provides a thoughtful background … defining the concept and contextualizing it."
The book is available online at www.abc-clio.com/ABC-CLIOCorporate/product.aspx?pc=A5037P. Martin is also the author of 2014's Demystifying eResearch, through which she discovered the idea of transdisciplinarity while writing.
For more information call 410-543-6030 or visit the SU website at www.salisbury.edu.