Tuesday, September 16, 2014
SU Teacher Education Faculty Accept ALS Ice Bucket Challenge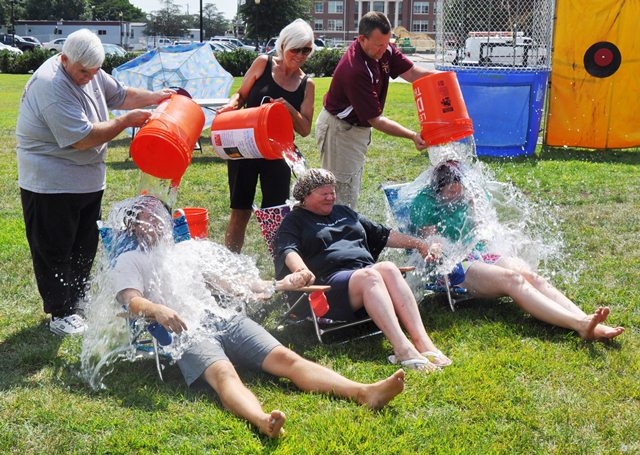 SALISBURY, MD---Six faculty from Salisbury University's Teacher Education Department recently accepted the Ice Bucket Challenge to raise money and awareness for the ALS Association.

Dr. Chin-Hsiu Chen, director of early childhood education at SU, challenged the department to participate. Her husband, Ming Ao, died of ALS two years ago.

Students were invited to vote on which faculty took the plunge. Winners, announced during a fundraiser on the Teacher Education and Technology Center Lawn, were Drs. Sandy Pope, Claudia Burgess and Kim McCormick (seated, from left, in the photo above).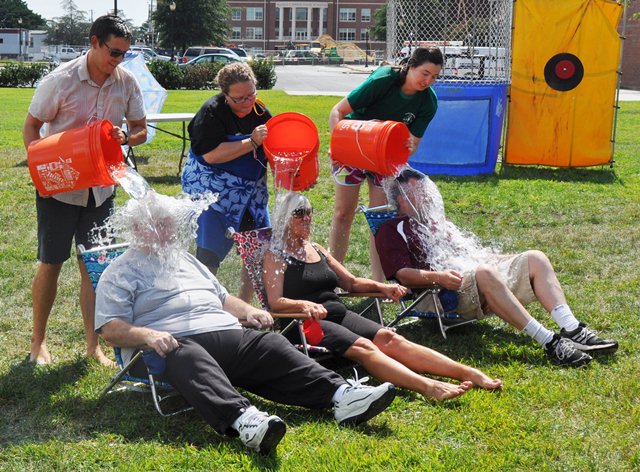 The three faculty who poured the water on the top vote-getters also accepted the challenge, trading places for their turn. They were (seated, from left, in the photo above) Drs. Doug DeWitt, Nancy Michelson and Ron Siers.
After the chilly festivities, faculty also volunteered their time at a dunking booth where students could practice their aim and drench their professors even more for a $1 donation to the ALS Association's Eastern Shore of Maryland chapter.
On an afternoon when the "feels like" temperature approached 100 degrees Fahrenheit, Siers had only one question after his bucket was emptied: "May I have another?"