Wednesday, June 1, 2011
SU Students Earn Silver, Bronze at DMAWEF MAXI Competition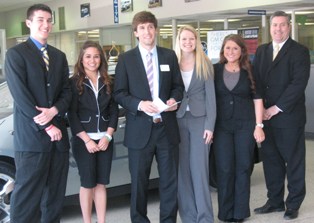 From left: Scott Cocklin, Jessica Beever, Chris Ourisman, Hannah Townsend, Sarah Cibelli and Dr. Howard Dover.

SALISBURY, MD---Sustainable driving makes a difference.

That's the message two teams of students from Salisbury University's Franklin P. Perdue School of Business sought to impart during the Direct Marketing Association of Washington Education Foundation's (DMAWEF) 2011 Collegiate MAXI Competition.

Students were challenged to create a marketing plan for the Chevrolet Volt for area automotive dealer Ourisman Chevrolet.

The SU team of Jessica Beever, Sarah Cibelli, Scott Cocklin and Hannah Townsend earned the Silver MAXI, while the Salisbury team of Matt Leon, Brian Matos, Spenser Smallwood and Tracy Stanley took home the Bronze. Both were coached by Dr. Howard Dover of the Management and Marketing Department.

"Since DMAWEF has created its new MAXI program,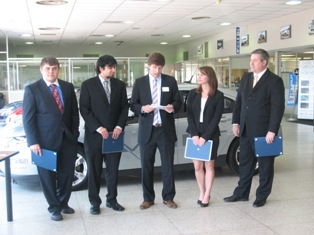 From left: Spenser Smallwood, Brian Matos, Chris Ourisman, Tracy Stanley and Dr. Howard Dover (not pictured: Matt Leon).

Salisbury teams have placed in the top three each semester," said Dover. "The majority of students on this year's teams were spring semester juniors, who have had only one marketing class—principles of marketing—which makes their achievements all the more impressive."

While the competition was a new experience for most of the SU team members, one had prior experience in the MAXI winners' circle. Cibelli was a member of last year's Bronze team.

The Collegiate MAXI Competition is open to colleges and universities throughout the mid-Atlantic. SU's competitors included Virginia Commonwealth and Christopher Newport universities.

For more information call 410-543-6030 or visit the SU Web site at www.salisbury.edu.