Monday, April 29, 2013
SU Student Researcher Represents Maryland at 'Posters on the Hill'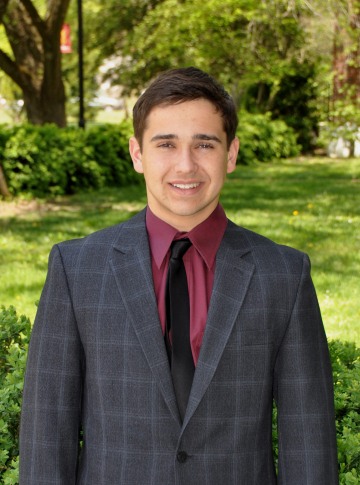 SALISBURY, MD---Sharing research on robotic arms, Salisbury University sophomore Samim Manizade recently presented at Posters on the Hill, a national event attended by U.S. Congressional leaders and others.

Selected by the Council on Undergraduate Research (CUR) from among some 800 applicants nationwide, Manizade was one of only 60 student participants and the sole representative of a Maryland campus.

The Capitol Hill poster session illustrates the importance of undergraduate research to federal legislators and representatives of funding agencies, said Dr. Karen Olmstead, dean of SU's Richard A. Henson School of Science and Technology.

A physics/pre-engineering major from Salisbury, Manizade explored the "Computational Modeling of Robotic Arm Kinematics." His project modeled a variety of arms with a computer-algebra system and used mathematical techniques to show their uses and applications in the field of electrical engineering.

"He was doing some really advanced mathematics," said his research mentor, Dr. Michael Bardzell, chair of SU's Mathematics and Computer Science Department. "The level of background needed to even get started on the project was impressive, and he picked it up quickly."
Manizade conducted the research last summer, between his freshman and sophomore years. He was funded by SU's Bridges to Success program, which is made possible by a nearly $1 million National Science Foundation grant dedicated to supporting the recruitment and retention of students in science, technology, engineering and mathematics (STEM) disciplines. He hopes to continue exploring robotics at SU.
"I had the most fun talking to the other undergraduate researchers," Manizade said, describing some of their projects, including bio-concrete. He also appreciated experiencing such an interesting "environment of development."
"The poster event is a good experience for students to make the case for science to a more general audience," Bardzell added. "Science depends on funding from state and federal levels; this gives students an opportunity to communicate the importance of this funding."
Visits to congressional offices are encouraged as part the CUR program. Manizade, Bardzell and other SU officials met with U.S. Congressman Andy Harris and staffers for U.S. Senators Ben Cardin and Barbara Mikulski.
"Excellent academic achievements are happening at Salisbury University and this was a great opportunity to showcase that at the national level," said Robby Sheehan, SU's director of government relations.
Beyond his academic research, Manizade has been appointed Student Regent for the University System of Maryland's Board of Regents for the upcoming academic year. He is a 2011 graduate of James M. Bennett High School.
For more information call 410-543-6030 or visit the SU Web site at www.salisbury.edu.