Friday, May 17, 2013
SU Student Creates 'Peace Wall'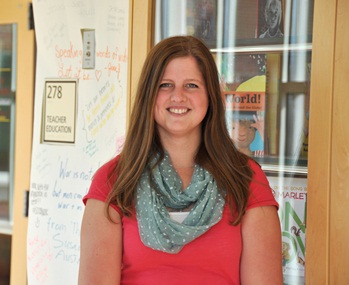 SALISBURY, MD---When Salisbury University junior Jenna Dulin, an early childhood education major, heard about the Sandy Hook Elementary school shooting last fall, knew she wanted to do something to "help prevent things from like that from happening again."

After brainstorming ideas with one of her SU professors, the Centreville, MD, native decided to create a "Peace Wall" in the Teacher Education and Technology Center (TETC).

"It's just a place where people can commit to doing a random act of kindness," she explained. "It can be as simple as smiling at someone."

The idea came from a viral Facebook posting encouraging people to complete kind acts for every victim in Newtown, CT. Located on the second floor near the Teacher Education Department, the wall has been up all semester.

"I wanted it to be a place to remind people to do something nice," Dulin said. "I thought that if people could see what others are doing, it would inspire them to be kind, as well."

The University's Volunteer Center honored Dulin with its Community Heart Award for her endeavor. She also received a Literacy and Service Recognition Award from the International Reading Association's Literacy and Social Responsibility Special Interest Group.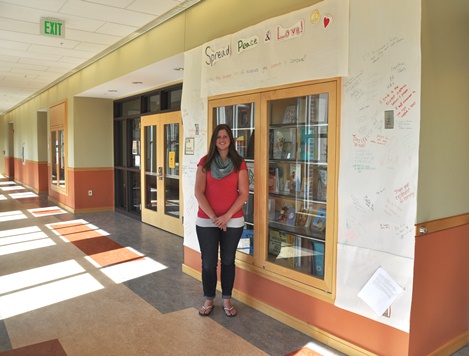 "In addition to many messages from faculty and students, the Peace Wall has been signed by people from Canada, China, Korea, Iceland and Australia," said Dr. Patricia Dean of SU's Teacher Education Department. She has been Dulin's mentor on the project. To learn more, visit www.facebook.com/SuPeaceBook.
The grounds of the TETC also are home to two six-foot white Peace Poles, a project initiated by students in Dean's early childhood social studies class last spring.
After studying abroad in Italy this summer, Dulin hopes to develop a new peace-inspired project in fall 2013.
For more information call 410-543-6030 or visit the SU Web site at www.salisbury.edu.