Friday, May 17, 2013
Watch SU NCAA Tournament Play Live Online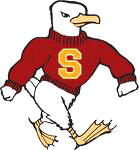 SALISBURY, MD---Sea Gull Athletics fans can watch their favorite teams in action online during the NCAA Division III tournaments this weekend.
Baseball, softball, and men's and women's lacrosse have scheduled matches, including a potential title contest for women's lacrosse on Sunday, May 19. For complete schedules visit www.suseagulls.com.
Once there, check the calendar on the right side of the page. To stream live video, select a game and click the "Video" link at the bottom of the details.
No subscription is required, and the games are streamed for free.