Thursday, May 1, 2008
SU Strengthens Ties With Chinese Institutions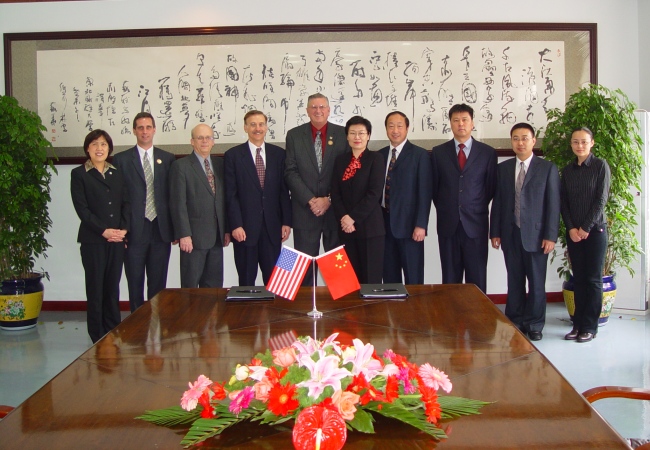 Salisbury, MD---Every year, more than 60,000 Chinese students study at colleges and universities in the United States, and an increasing number of American students are choosing to study abroad in China.
To strengthen these ties, a Salisbury University delegation met with educational partners in China last week and established a new dual degree undergraduate program in International Business with Dongbei University of Finance and Economics (DUFE). SU is the first American university to launch a joint degree program with DUFE, which is located in the northern city of Dalian, China.
The new program will allow a cohort of five Chinese students to begin the undergraduate degree in International Business at DUFE. After a year, they will travel to SU to complete two years of coursework before returning to DUFE to complete the final year of study. In four years, students will earn two International Business degrees, one from SU and the other from DUFE. The first cohort begins the new program at DUFE in fall 2008 and will arrive at SU in fall 2009.
The SU delegation also met with colleagues at the International Institute of Chinese Language and Culture at DUFE to discuss the creation of a new semester-length study abroad program in China for SU students to study Chinese language and East Asian Studies. Meetings with professors Fang Aixiang, dean of the Institute, and Zhang Jian, vice dean, encouraged the ongoing development of this new initiative.
After three days in Dalian, the SU delegation traveled to the capital, Beijing, where they visited Peking University and its Beijing International Masters of Business Administration (BIMBA) program. Dr. Hu Dayun, dean of BIMBA, and Cathy Du, gave a presentation about the program and led a campus tour. The SU delegation also met with colleagues at the Global Exchange Center (GEC) in Beijing, where SU students study Chinese language and culture during short-term summer study abroad. They discussed opportunities for further collaboration on study abroad, as well as the delivery of Chinese language courses for SU students in Beijing and online, in cooperation with the SU Department of Modern Languages. The SU delegation was hosted by Michael Ping Wang, GEC director, and Rosemary Wang, Chinese Language coordinator at GEC.
Finally, representatives from the SU delegation strengthened ties with the Western Academy of Beijing (WAB), a private K-12 school where, for the past several years, SU elementary education majors have completed a portion of their professional teaching internship. Meetings with Principal Sarah Harris and Ken Perkins, coordinator of the international teaching practicum, focused on strengthening the SU teaching internship program at WAB.
The SU delegation was led by Provost Tom Jones and also included Dr. Robert Tardiff, associate provost; Dr. Richard Hoffman, interim dean of the Perdue School of Business; Dr. Brian Stiegler, director of the Center for International Education; and Dr. Hong Yao, global program coordinator for the Perdue School. The agreement was signed by Dr. Jones and Dr. Que Chengyu, Vice President of DUFE. It was witnessed by DUFE leaders: Dr. Wang Qingshi, dean of School of International Business, Dr. Shi Da, deputy dean of School of International Business, and professor Wang Tiejun, director of International Cooperation.
The visit to China by SU leaders marks the University's continued commitment to globalize its educational programs through collaborations with international education partners around the world. For more information on SU's many international education initiatives, visit the SU Center for International Education Web site at www.salisbury.edu/intled.