Monday, May 9, 2011
SU Senior Claims Bernstein Award for Green Lawn Care
SALISBURY, MD---For Salisbury University senior John "Zack" Kline, taking a little constructive criticism paid off — in the amount of $5,000.
The repeat finalist won the University's 2011 Bernstein Achievement Award competition with his business plan for environmentally-friendly A.I.R. Lawn Care. Last year, he received an honorable mention.
"He grew so much," said judge Hayley Gallagher of Maryland Capital Enterprises. "He was so persuasive and he really took heed of what we told him. He showed flexibility ... and he was willing to change and adapt."
Kline's plan is to start a company that provides sustainable residential landscaping services. He hopes to launch it after graduating from SU in December 2011 or after earning his M.B.A. from SU.
"I'm very persistent," Kline said. "I knew I had a great idea, I basically needed to improve on it."
The Rockville, MD, native developed his plan after working for a lawn care company for two summers. He wanted to be a "green" service to fill a void in the market and to minimize the environmental impacts he witnessed as an employee.
"I was sincerely bothered by the amount of gas used by the trucks and equipment," he said. "The emissions were terrible. I knew something could be done better."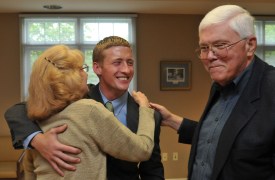 Among Kline's initiatives are using propane and electric powered equipment, emphasizing efficiency, composting grass clippings, utilizing organic waste recycling centers, supporting homeowner gardens and assisting with curbside recycling.
Kline was supported at the competition by his parents, grandparents and three sisters, including Alexa, who is a sophomore at SU.
Judge David Hill of Easton Bank and Trust said: "I thought his plan was doable. It's a business he will succeed at. I love that he has a 'green' company and targeted affluent homeowners in Montgomery County, who are more apt to be green conscious."
Hill added that it was a close call between all four finalists. Among them were students of all ages, representing three of SU's four schools.
Senior John Stockel, a management major, earned a second place prize of $1,000 for RiteTrak, a bike rental service for North American universities.
Freshman Syed Rahman of the Fulton School of Liberal Arts, in partnership with Fuad Balashov, a freshman at the University of Maryland, College Park, earned a $250 honorable mention for a plan for a new bike lock. Graduate student Christopher Maxa also earned a $250 honorable mention for a consulting company to teach small businesses how to benefit from geographic information systems technology.
The other judges were Warren Citrin of Glotocorp and Dan O'Connell of PKS & Company, P.A.
The Bernstein Achievement Award was launched in 1987 by local entrepreneur and SU alumnus Richard Bernstein ('76), founder of BAI Aerosystems, Inc. in Easton and K&L Microwave, Inc. in Salisbury.
For more information call 410-543-6030 or visit the SU Web site at www.salisbury.edu.