Wednesday, August 31, 2016
SU Researchers Collaborate With Universities, Brazilian Government on Forest Code Questions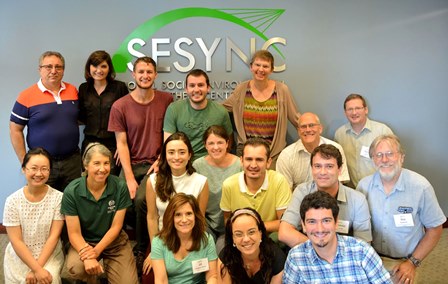 SALISBURY, MD---If 30 meters of forestland are permanently preserved as a riparian border around streams in the Brazilian Amazon, will those trees increase the quality and quantity of water in those streams, or will it reduce water availability and dry them up? What if the size is increased to 50 meters? A hundred?

Those are just a few of the questions Drs. Jill Caviglia-Harris and Daniel W. Harris of Salisbury University are hoping to answer through collaborative research with universities in the U.S. and Brazil, and Brazilian government officials.

Caviglia-Harris, of the Environmental Studies and Economics and Finance departments, and Harris, of the Geography and Geosciences Department, were awarded funding in June to organize and participate in an interdisciplinary workshop hosted by the National Center for Socio-Environmental Synthesis (SESYNC) in Annapolis.

The five-day workshop, "Forests, Agriculture and River Systems in the Brazilian Amazon: Evaluating the Impacts of Forest Cover Change on Hydrological Services," brought together faculty and graduate students from SU; the University of California, Santa Barbara; San Diego State University; the University of Montana; the University of Florida; North Carolina State University; the University of Sao Paulo – Ribeirão; and the Federal University of Lavaras, Brazil.

Joining them were representatives from Brazil's ministries of Forestry, Water and the Environment. Their goal: examine the impact of deforestation and land use change on the availability of water for rural households in the former tropical rainforest of Rondônia, Brazil. Results of the research team's studies will be submitted for publication in scientific journals and help support better implementation of Brazil's 2012 Forest Code.

The Brazilian Forest Code represents the most comprehensive forest protection and conservation law of its kind in the world, requiring the largest land registry on Earth, and has the potential to preserve millions of acres of forest, said Caviglia-Harris.

The newest version of the code passed in 2012 and was initiated with the intent to stop deforestation and encourage restoration in environmentally sensitive locations, such as riparian zones, steep slopes and natural springs. However, Brazil's ministries of Forestry, Water and the Environment need answers to important research questions about the efficacy of these protected areas before the implementation of this new law can deliver beneficial outcomes.

Caviglia-Harris and Harris' team is comprised of geologists, geographers, economists and forestry scientists tasked with analyzing pre-existing data — much of it collected or sourced by SESYNC — to help answer six research questions generated in consultation with Brazilian government officials:

•How much will farmers need to be paid to increase areas of permanent preservation (APP) more than the legal minimum?

•How do fish ponds impact household welfare and the quantity and quality of water?

•How do climate, land use and watershed size govern dry season water supply and farmer outcomes?

•Is the region's household milk production impacted by water availability, including rainfall and stream flow?

•Do changes in forest regulation impact deforestation?

•What is the relationship of stream flow to APP, and does the forest code actually affect water quality and quantity?

The answers to some of those questions may have broader impacts. Fish, for example, are one of the region's leading exports, Caviglia-Harris said. If the data show that dry season water availability results in fewer fish, that could be an environmental indicator of a potential flux in the area's economic health.

Data collected by Caviglia-Harris and Harris over approximately 15 years of research in the Brazilian Amazon also will be used in the analysis.

Research teams — one assigned to each individual question — have been funded to meet again in January to discuss their progress. They will meet with Brazilian officials in June to share their results.

For more information call 410-543-6030 or visit http://facultyfp.salisbury.edu/jlcaviglia-harris/NSF/ResearchTeam.htm.