Wednesday, August 31, 2016
Salisbury Youth Orchestra Musician Quillin Also a 'Gifted Composer'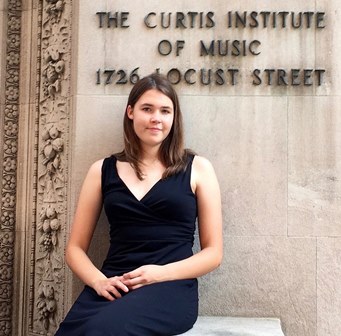 SALISBURY, MD---Seventeen-year-old Lila Wildy Quillin demonstrated an ear for music at an early age.

As a child, she taught herself to play the piano on a one-octave toy keyboard. When her parents upgraded to a full piano, she used those early skills to compose her own pieces.

A decade later, the South Point, MD, resident has composed three works performed by the Salisbury Youth Orchestra (SYO) at Salisbury University, in which she has played clarinet (an instrument begun in the fourth grade) for the past five years.

The first of her compositions the orchestra performed was titled, fittingly enough, "Beginning." Entering her senior year at The Salisbury School this fall, the budding musician is hoping to turn her love of composition into a career.

"I've been composing my entire life," she said, noting that having her works played by the SYO has been central to her success. "You can't get that experience any other way."

She credited Dr. Jeffrey Schoyen, director of the SYO and Salisbury Symphony Orchestra at SU, not only for including her compositions in the youth orchestra's performances, but for providing guidance along the way.

It was Schoyen, for example, who recommended she take preparatory classes with Dr. Judah Adashi at Johns Hopkins University's esteemed Peabody Institute to enhance her already strong composition skills. He also introduced her to recent SU graduate Marisa Lacey, with whom Quillin took private lessons in music theory.

"She is a gifted composer," Schoyen said. "Very talented and very creative."

Her mother, Dr. Kim Quillin of SU's Biological Sciences Department, said Schoyen's guidance had been a driving force for her daughter.

"Without him, we wouldn't have known about a lot of these opportunities," she said.

Juliana Smith, her band teacher at The Salisbury School, also has been an influence in her decision to pursue composing. Smith introduced her to Sibelius notation software and gave her the opportunity to write two pieces performed by the school's band.

Upon first considering composing as a career at the end of her sophomore year in high school, Lila and her parents began researching opportunities to expand her knowledge base. She applied, and was accepted, to a summer program at the prestigious Interlochen Center for the Arts in Michigan.

"Those six weeks changed my life," she said. "It was the first time I really spent time with other musicians and composers, and I loved it."

This summer, she was accepted to a three-week program at Philadelphia's Curtis Institute of Music, well known as a training ground for gifted young musicians. There, she learned about music history, composition and analysis. A focus on 20th-century works especially helped expand her repertoire, she said.

After spending part of a second summer immersed in musical studies with other musicians, she is ready to take the next step.

"I feel like I really belong in that environment," she said.

After graduation next spring, Quillin, hopes to attend a college specific to her interests, such as the Oberlin Conservatory of Music in Ohio. She also plans to apply to the Peabody Conservatory, as well as the Berklee College of Music and Manhattan School of Music.

Before she gets there, however, she has one final season with the SYO. And maybe a few more pieces to compose, as well.

For more information about the Salisbury Youth Orchestra call 410-543-6030 or visit the SYO website at www.salisbury.edu/music/syo.

For more information about Quillin visit her website at https://lilawildyquillin.bandcamp.com.