Thursday, April 9, 2015
SU Percussion, World Drum Ensembles Perform Thursday, April 9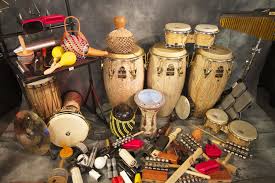 SALISBURY, MD---From music played on tin cans to the simulation of a construction site, Salisbury University's spring Percussion and World Drum Ensemble concert pushes the boundaries of traditional instruments to create new sounds.

Their performance is 7:30 p.m. Thursday, April 9, in Holloway Hall Auditorium.

Directed by Eric Shuster, the Percussion Ensemble performs two early 20th-century pieces and one contemporary work. John Cage's Credo in Us (1942) features a quartet playing such "instruments" as tin cans, muted gongs, tom-toms, and a buzzer, radio, phonograph and piano. Cage described the work as "a suite with satirical character."

Gerald Strang's "Percussion Music" (1935) uses more traditional instruments, including gongs, woodblocks and bells. It is an early example of percussion ensemble music. Per Andreasson's Tinplay (2004) represents the more current end of the spectrum, on drums as well as tin cans and other metal instruments.

The World Drum Ensemble, directed by Ted Nichols, pays tribute to Cuba with "Mozambique," a modern Cuban Carnival music and dance invited by Pello el Afrokan in 1963, rich with congas and bellsand bombos (bass drums played with one stick).

The ensemble also performs three rhythms from West Africa. "Yankad i- Macara" is a social dance for young women, danced by young girls and boys coming from out of town to show their dance moves.

The dance rhythm "Gumbe" was developed from slaves who played on a square drum covered with goat skin. "Ke Bendo," on the other hand, was a protest against polygamy, sung by women from the Kissidugu region of Guinea to warn their husbands to take no more wives.

A unique arrangement of Rossini's William Tell Overture rounds out the concert, performed as if it were being played at a construction site.

Sponsored by the Department of Music, admission is free and the public is invited. The concert is part of the 2015 Salisbury Percussion Festival: SPF 15.

For more information call 410-543-6030 or visit the SU website at www.salisbury.edu.