Tuesday, July 22, 2008
SU Partners with Shady Grove Adventist Hospital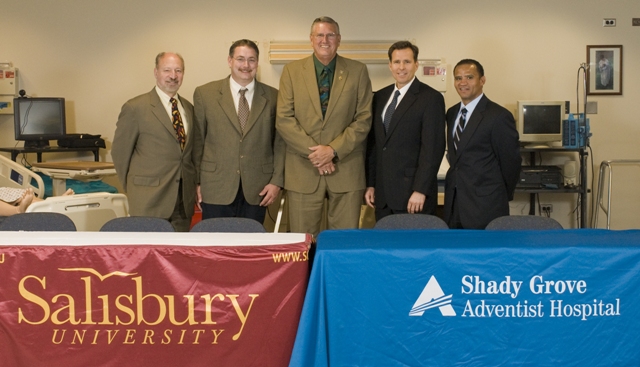 Pictured, from left: Dr. Stewart Edelstein, excutive director of the Universities at Shady Grove; Dr. Robert L. Joyner Jr., director of respiratory therapy at Salisbury University; SU Provost Tom Jones; Shady Grove Adventist Hospital President Dennis Hansen; and John F. Herbert, manager of cardiopulmonary services at Shady Grove Adventist Hospital.
SALISBURY, MD---Salisbury University and the Universities at Shady Grove (USG) have partnered with Shady Grove Adventist Hospital to support a new program in respiratory therapy, which is one of the most in-demand health professions in the nation.
Starting in fall 2008, SU will offer its Bachelor of Science in respiratory therapy at USG in Montgomery County. As part of this new program, Shady Grove Adventist Hospital in Rockville, MD, will pay $100,000 over five years to support a clinical instructorship. In addition, program participants will be able to perform clinical studies at Shady Grove Adventist Hospital.
"We at Salisbury University are extremely grateful for Shady Grove Adventist Hospital's financial and clinical support for our respiratory therapy degree program at the Universities at Shady Grove," said Dr. Tom Jones, provost and vice president of academic affairs at SU. "Hospital President Dennis Hansen has set the tone of collaboration through his commitment in linking his hospital, SU's degree program and the facilities at USG. Together, we will produce outstanding respiratory therapy graduates in Montgomery County to meet the growing demand for these important medical professionals locally, and nationally."
Respiratory therapists (RT) evaluate, treat and care for patients with breathing or other cardiopulmonary disorders. As the population ages, these medical professionals are in demand in the Washington, D.C., area as well as around the country. SU's new RT program at USG is designed to expand the pool of respiratory therapists, who play a vital role in the delivery of medical care in hospitals and other facilities. It will offer USG students the same high-quality curriculum as at SU's main campus.
SU's nationally accredited respiratory therapy baccalaureate is one of about 50 programs nationwide and is the only one in Maryland.
"Clinical instruction is the basis of our program," said Dr. Robert Joyner, director of the SU Respiratory Therapy Program. "If it weren't for these collaborations, we couldn't have the programs that we have. This is a wonderful cooperative effort between Shady Grove Adventist Hospital, USG and SU. We look forward to bringing this multi-professional approach to medical education at Shady Grove."
"Like many other medical professionals, respiratory therapists are in short supply and high demand," said Dennis Hansen, president of Shady Grove Adventist Hospital. "We are pleased to partner with the Universities at Shady Grove and Salisbury University to offer training assistance in this important and growing field of medicine to our local community."
Shady Grove Adventist Hospital is a not-for-profit, acute care facility in Rockville, MD. Shady Grove is committed to improving the health of people and communities through a ministry of physical, mental and spiritual healing. The hospital offers a broad range of health services and is recognized for excellence. For more information visit www.shadygroveadventisthospital.com.
"Shady Grove Adventist Hospital is a long-term partner with USG and has taken the leadership in programs that meet the healthcare needs of the community. We are pleased that this agreement with our newest university partner, Salisbury University, will further that effort by increasing the number of respiratory therapists in the region," said Dr. Stewart Edelstein, associate vice chancellor for academic affairs for the University System of Maryland and executive director of the Universities at Shady Grove.
Established in 2000, USG is a collaboration of nine leading public universities in Maryland, offering more than 60 undergraduate and graduate degree programs in Montgomery County. USG serves 2,600 full- and part-time students. For more information visit www.shadygrove.umd.edu.
To find out more about the SU-USG program, contact Joyner at 410-543-6365 or e-mail rljoyner@salisbury.edu.