Wednesday, January 6, 2016
SU Named 'Hispanic Outlook' Top 50 'Publisher's Pick'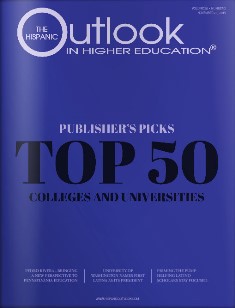 SALISBURY, MD---Salisbury University is one of the top 50 colleges in the U.S. offering "outstanding opportunities to Hispanic students" according to The Hispanic Outlook in Higher Education.
SU recently was named among the magazine's annual "Publisher's Picks," denoting the top 50 colleges and universities for Hispanic students in the U.S. Joining other institutions including Harvard, Princeton, Rutgers, Cornell and Penn State universities, this marks Salisbury's first time on the list since the ranking's inception in 1995. SU was the only University System of Maryland campus selected for this year's honor.
"For many years, publications such as U.S. News & World Report, The Princeton Review and Kiplinger's Personal Finance have had great things to say about the value of Salisbury University. We are honored that The Hispanic Outlook has taken note of our diverse programming, as well," said Dr. Janet Dudley-Eshbach, a Latin American literature and Spanish-language scholar celebrating her 16th year as SU's president.
"When I came to SU in 2000, one of my first initiatives was to attract a student population that more accurately reflected Maryland's population as a whole. This ranking provides validation that those efforts are bearing fruit."
According to The Hispanic Outlook, the factors publishers considered in compiling the most current list included the availability of financial aid and scholarships, as well as tutoring, mentoring and English as a Second Language programs; Hispanic campus organizations; "and other services that are designed to help Hispanic students succeed."
SU offers academic support for students through its U.S. Department of Education (USDE) grant-funded TRiO ACHiEVE program for first-generation students, Center for Student Achievement and Student Writing Center, among others. Non-English speakers may hone their language skills through SU's English Language Institute.
In addition, the Dudley-Eshbach Study Abroad Scholarship, personally funded by the President, helps support SU students studying abroad in Spanish-speaking countries in Latin America.
The University offers an M.A. in English with a track in Teaching English to Speakers of Other Languages (TESOL) and a post-baccalaureate certification in TESOL. Its faculty have received nearly $5 million in USDE grants to support TESOL instruction.
Cultural groups on campus include the Organization of Latin American Students (OLAS). SU's Multicultural Student Services Office and its Powerful Connections program also serve a diverse population. The University's Cultural Affairs Office features Latin American artists, films and speakers as part of its offerings, and celebrations such as SU's annual Hispanic Heritage Month activities and Multicultural Festival are popular.
Hispanic students currently represent more than 4 percent of SU's total enrollment of some 8,700.
"Salisbury is actively seeking to become a [USDE-recognized] Hispanic-serving institution," The Hispanic Outlook noted.
For more information call 410-543-6030 or visit the SU website at www.salisbury.edu.