Tuesday, April 26, 2016
SU Mathematics Students Win MAA Sectional Contests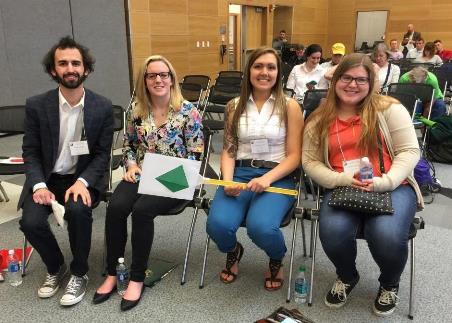 SALISBURY, MD---Cheered on by faculty mentors, Salisbury University students recently completed challenges and presented research at an annual Spring Meeting and Undergraduate Student Conference of the Mathematical Association of America's Maryland-District of Columbia-Virginia Section.

They bested students from across the region, winning "Jeopardy" and "Radical Dash" challenges.
"This was my first conference and, because of my experience, I can't wait to attend more," said Chelsea Clement, president of SU's Mathematics and Computer Science Club. "I gained better presenting skills and strengthened communication skills."

Clement, a junior mathematics major from Denton, MD, competed in both contests, along with senior mathematics majors Samantha Maillie of Elkton, MD; Emily Marinucci of Huntingtown, MD; and Graylon Wright of Williamsport, MD.

The "Radical Dash," modeled after CBS' Amazing Race, encouraged the students to think creatively and quickly. At four stations, they were given clues, worth varying points, to get to the next station. Challenges explored topics ranging from measuring liquids to chess strategy.

"Our students' creative and innovative thinking won them first prize," said Dr. Kathleen Shannon of SU's Mathematics and Computer Science Department. Judges noted that they won by a "large margin," she added.

During "Jeopardy," the students answered questions in categories including "Math and the Human Body," "Mathematicians by Middle Name," "Common Math Terms," "The i's Have It," "Math in the Blank," "Raiders of the Lost 'Arc,'" "Party Like It's 1916" and "The π's Have It."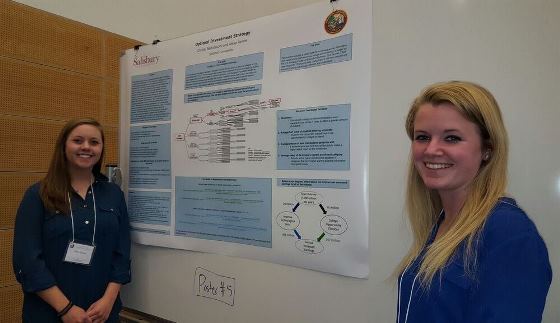 "SU's team competed with other schools in the Maryland, Virginia and D.C. area and wowed the judging team with their approaches," Shannon said. The team "played leap frog" with Washington and Lee students for the lead, she added, before winning based on their strategy and wager for the final Jeopardy question.

"My favorite part of the conference was the contests; we were able to use our brains for many different tasks," Marinucci said.

The students also joined four others from SU to present results of independent or small group research projects. Maillie discussed "Non-Small Cell Lung Cancer Post-Treatment Follow-up Imaging Procedures with PET/CT Scans Versus CT Scans and the Effect on Patient Survival." Clement and Marinucci shared their "Analysis of Best Subsets for Transfer Payloads," and Wright presented on "A Special Case of the Converse to the Mean Value Theorem."

"I really enjoyed the competition as a whole," Maillie said. "The talks were all very interesting. My work is still in progress, so getting to present gave me the opportunity for feedback."



Other SU presenters included senior computer science majors William Oehlbeck of Great Mills, MD, and Jarell Hackett of Clinton, MD, on "Parallel Computation in Graph Traversal Algorithms." Junior mathematics majors Christy Bertolaccini of Huntington, MD, and Alexa Raines of Poolesville, MD, also presented the poster "Optimal Investment Strategy."

In addition to Shannon, other SU faculty in attendance included Drs. Jathan Austin, Jennifer Bergner, Randall Cone, Kurt Ludwick, Robert Tardiff and Barbara Wainwright. Bergner was introduced as the new section representative to the MAA board of governors. Cone presented "Video Games and Mathematics: Visualizing Automata" and Austin presented "A Problem in Three-Digit Addition."

The students credited several of the faculty members with guiding their work and encouraging their participation.

For more information call 410-543-6030 or visit the SU website at www.salisbury.edu.