Monday, February 2, 2015
SU Launches Online Master's in GIS Management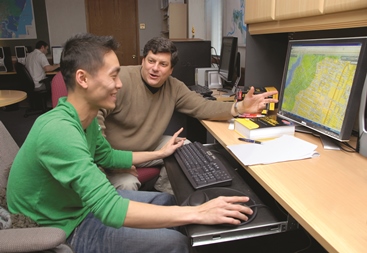 SALISBURY, MD---Salisbury University is now offering its Master of Science in Geographic Information Systems (GIS) Management completely online.

The graduate program is one of the first three at SU launching fully online versions this year.

"Our program is designed specifically for working GIS professionals who seek management credentials for career advancement," said Dr. Stuart Hamilton of the Geography and Geosciences Department. "The combined focus on technical and management skills makes it one of only a few programs of its kind in the world."

Customizable for those working in government, business and nonprofit sectors, the program also allows students to earn education credits toward their GISP® certification. The degree may be completed in 13 months full time or two years part time.

Previously the program, which started in 2007, included both online components and a campus session.

Now it is accessible to students from across the U.S., as well as international students, who may not have been able to travel to Salisbury before, Hamilton added.

"Offering the program 100 percent online allows students to complete all coursework on their schedule," said Dr. Michael Scott, program director. "According to our graduates, having this degree frequently leads to substantial salary increases."

The two other SU graduate programs beginning online versions, starting in fall 2015, are the Master of Business Administration and Master of Social Work. Those will still offer campus-based options, as well.

The next cohort of the M.S. in GIS Management program begins in June 2015. Applications are accepted on a rolling basis.

SU offers a flat tuition rate regardless of location and third-party billing options for employer payments.

For more information contact Hamilton at 410-543-6460 or sehamilton@salisbury.edu, or visit www.salisbury.edu/msgism.